Metrolink track replacement in city centre: April to September
06 Apr 2009
Information on tram services, walking routes and cross-city bus links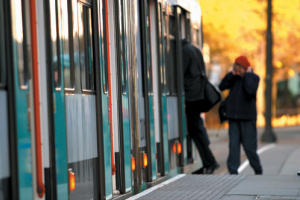 From Monday 6 April, the Greater Manchester Passenger Transport Executive (GMPTE) will start work on replacing the Metrolink track throughout the city centre. Metrolink services will run to different timetables and some bus services will take a different route into the city centre.
All Metrolink passengers, other road users and people who live and work in the city centre are encouraged to:
pick up a leaflet from a GMPTE Travelshop
or
find out more online at GMPTE
You'll find information about tram services, walking routes and bus services to provide links across the city centre.
From Monday 6 April, the following Metrolink services will run:
Every 12 minutes from Altrincham to St Peter's Square (double trams)
Every 12 minutes from Eccles to St Peter's Square - every 12 minutes from Bury to Victoria (double trams)
The following bus services will run for people with a valid Metrolink ticket:
G-Mex stop - Piccadilly station Every 20 minutes throughout the day, seven days a week.
Victoria - Shudehill - Piccadilly Gardens - Piccadilly station Every 10 minutes (Monday to Saturday, 7am to 7pm). Every 20 minutes (evenings and Sundays).
The city centre track is the most heavily used on the tram network and is now over 16 years old. Even more trams will start running on it when new lines to Chorlton, Oldham, Rochdale, East Manchester and MediaCityUK open over the next few years.
The new track will help make journeys smoother, quieter and more reliable. Improvements will also be made to the tram stops at St Peter's Square and Piccadilly Gardens.
You can obtain more information about Metrolink services:
by visiting Metrolink
or
by calling Metrolink Customer Services on 0161 205 2000 (lines are open between 7am and 11pm, Monday to Friday, and between 10am and 6pm at weekends)