eUpdate gets an update!
19 Feb 2009
New look for the University's weekly e-newsletter.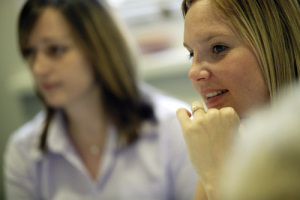 Welcome to the brand new eUpdate! We've switched format from plain text to HTML to bring you an e-newsletter with a more attractive layout plus graphics content.
One major change that you'll notice is greater selectivity. Each week, we'll highlight up to three lead stories with photos, while other items from the rest of the week's news will be displayed under two further categories: 'Other News' and 'Events'. Links to popular University websites will appear in the 'Regular Links' box at the top right of eUpdate. For a view of all the week's news, you can access the online StaffNet News from this section.
As always, your contributions (both written and photographic) are vital. With a more professional format, we are especially keen to attract content that is genuinely newsworthy. This means that it should meet at least one of the following criteria:
It's unusual
People need to know about it
People want to know about it
It's of interest to lots of people
It's important
If you submit an item that needs a little bit of work to make it newsworthy, we'll contact you to tease out further details of the story behind it.
And, finally, any publication will only succeed if it's providing its readers with what they want, so don't hesitate to share with us what you like and don't like about the new eUpdate.
So check out the yellow box at the bottom of eUpdate for guidance on submitting your news and views - and get writing!
-----
NOTE: If you experience any technical teething problems with the new eUpdate, please email webteam@manchester.ac.uk and our colleagues will do their best to get you up and running.