Discover your Peak Power today!
16 Feb 2009
Try the user friendly exercise bike that feels almost like real cycling.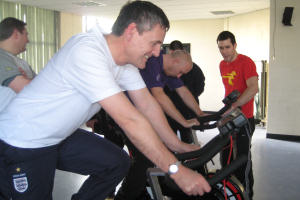 The University of Manchester in conjunction with Wattbike and British Cycling are giving staff and students the opportunity to have a go on one of the ground-breaking Wattbikes.
Whether you are setting out to get fit, searching for ways to improve your performance, racing your friends online or just want a realistic ride without having to go out in the rain, Wattbike can take you there.
Wattbikes can be found at The Armitage Sports Centre and Sugden Sports Centre from 2 February 2009. They are free to use and you don't have to be a member of the sport centres to have a go.
If you are interested in pitting your strengths against friends, colleagues, other universities and Olympic athletes then take the Peak Power test. The test takes six seconds and measures your peak strength.