Inkjet and toner cartridge recycling.
09 Feb 2009
Inkjet cartridge recycling points and toner cartridge collections.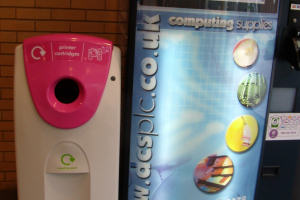 Inkjet recycling
Staff and students can now recycle inkjet cartridges at the following locations in the specially designed recycling points:
Ground floor of University Place adjacent to computer consumables vending machine
1st floor of the Main Library adjacent to computer consumables vending machine
Joule Library (main entrance), Sackville Building
Steve Biko Building/Students Union, Oxford Road
Students Union, Barnes Wallis Building
Staff can also post any inkjet cartridges (securely packaged) in the internal mail to:
Simon Atkinson or Charlotte McHugh, Environmental Services Building
Toner cartridge recycling
The Directorate of Estates will be launching an official scheme for the recycling of toner cartridges in the near future.
In the meantime, toner cartridges can be recycled by placing them in clear plastic bags (no more than FIVE cartridges per bag) and leaving them at the local office paper/blue bag recycling point. This will ensure they are collected by the Campus Cleansing Unit for subsequent recycling.
Anyone wanting clear plastic bags for this purpose should contact: