Exhibition Opening: Subversive Spaces.
02 Feb 2009
Surrealism and Contemporary Art: Friday 6 February, 6-8pm.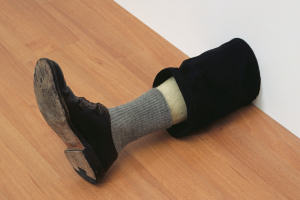 Sir Nicholas Serota, Director, Tate, opens the latest exhibition at The Whitworth Art Gallery.
Subversive Spaces is the first exhibition to trace the continued influence of surrealism's ideas in contemporary art. Featuring Surrealist masters such as Magritte, Dalí and Brassaï, The show is also packed with some of the biggest names in contemporary art, including Sarah Lucas, Lucy Gunning and Turner-Prize winner Douglas Gordon. The 'must-see' of the exhibition is a new international commission, Kinderzimmer, by Venice Biennale prizewinner Gregor Schneider who has been described by The Times as the "enfant terrible of the German cultural scene".
The opening event, and the exhibition, are free to attend.
The exhibition is accompanied by a two-day conference. For details:
The exhibition runs from 7 February to 4 May. For full details, visit: