Graphene pioneer named as one of world's top young innovators
19 Aug 2008
Dr Kostya Novoselov of The University of Manchester has been named as one of the world's top young innovators for his work on the world's thinnest material.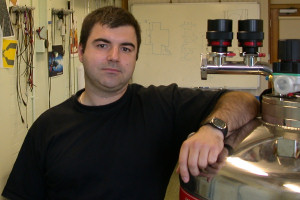 Dr Novoselov, a Royal Society Research Fellow in The School of Physics and Astronomy, was selected from more than 300 nominees under the age of 35 by a panel of expert judges and the editorial staff of Technology Review following his discovery of graphene – a one-atom thick gauze of carbon atoms resembling chicken wire – with Professor Andre Geim in 2004.
This incredible new material has rapidly become one of the hottest topics in materials science and solid-state physics.
Technology Review, which is published by Massachusetts Institute of Technology (MIT) describes Dr Novoselov as "one of an elite group of accomplished young innovators who exemplify the spirit of innovation".
Dr Novoselov is a researcher in the Mesoscopic Physics Group and the Centre of Mesoscience and Nanotechnology at The University.
"The TR35 honours young innovators for accomplishments that are poised to have a dramatic impact on the world as we know it," said Jason Pontin, editor in chief and publisher of Technology Review magazine. "We celebrate their success and look forward to their continued advancement of technology in their respective fields."
Dr Novoselov said: "We have had fantastic fun working with graphene over the last few years. The beauty of it is that it allows a wide range of experiments, from the most fundamental right through to very realistic applications."
Dr Novoselov and the other TR35 winners for 2008 will be featured in the September issue of Technology Review magazine and honoured at the EmTech Conference to be held at MIT from 23 to 25 September 2008.