PGRs gather for Christmas social event
21 Dec 2022
Postgraduate researchers with parenting or caring responsibilities came together to celebrate the festive season and share experiences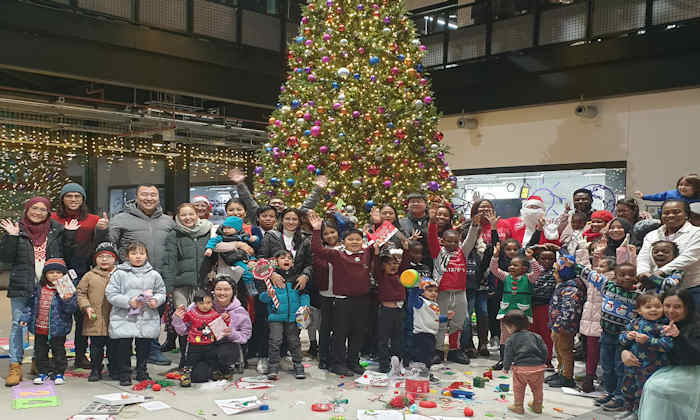 Dr Perpetual Eze-Idehen set up the PGR Parents Carers and Guardian Support Network whilst completing her PhD, when she identified how difficult it can be for PGRs, especially those with caring responsibilities, to support and network with their peers. With some unable to go home during the festive season, it can feel isolating with family and relatives many miles away. Dr Eze-Idehen organised an event which brought many families, children, parents and carers together to celebrate this festive season, sharing experiences with other PGRs as a source of support.
The event was supported by FSE Doctoral Academy and was held on Tuesday, 13 December. Members of the network brought their families and children for an afternoon of Christmas activities, festive lunch and a visit from Father Christmas. The children were thrilled and had great fun with various educational toys and festive colouring, singing and all of them went home with a book to encourage their reading skills.
Over 100 researchers attended, and it created an opportunity for social interaction and linked together Postgraduate Researchers with shared interests and responsibilities to network, facilitate mutual support and share experiences.
Network founder and event organiser Perpetual said: "It was so nice to see the PGRs meet from all over the University, discussing collaboration about research over a festive lunch and merry atmosphere. I'd like to express my special gratitude to Professor Scott Heath and Helen Mcmanamon from FSE Doctoral Academy, Elisabeth Kurtis my mentee from Manchester Gold for their invaluable support in making this event a great success."
Attendees were equally impressed, one saying: "Dr Perpetual, thank you for putting this beautiful event together, it made my children so happy to come into my place of work." Another added: "I am a PGR Supervisor but dropped by, loved the Christmas PGR event! The network support event was unbelievably amazing."
Plans are already in place for the coming year's events and Dr Eze-Idehen is happy to coordinate and collaborate to make these events even better for our PGR community.