Giving back to the University – an honour and a privilege
16 Dec 2022
We talk to one of our Board of Governors lay members, alumnus David Buckley about who he is, how he and his colleagues support our University – and why he was drawn to this essential role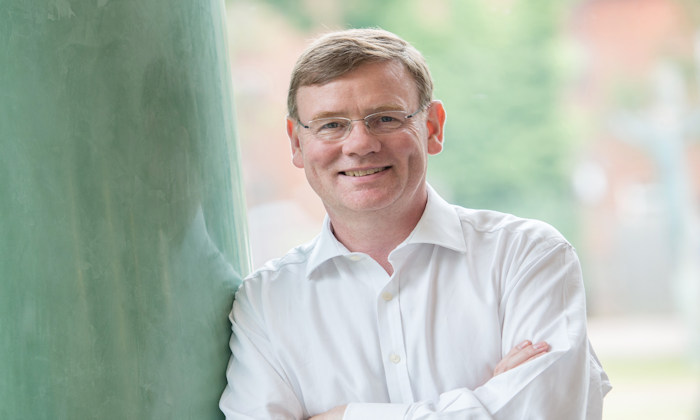 Our University's Board of Governors plays an essential role in supporting our ambitions and achievements.
But it is an area of our University that may not be understood as well as it might – an issue raised in last year's independent review of our governance by Halpin.
To give everyone a better understanding, over the coming weeks and months, we'll be featuring a series of communications looking at various aspects of the Board and its work.
So, meet David Buckley, our latest Board member to tell us who he is and why he was drawn to this essential role. David is an alumnus of our University, graduating in 1984 with a BSc Hons Electrical and Electronic Engineering and attaining his MSc Electrical and Electronic Engineering in 1990.
Can I ask, what attracted you to a role on the Board in the first place?
The University has played a role in my life for many years. I first re-engaged in 2000 as a founding mentor on the Manchester Gold Programme. I was then invited to join the Global Leadership Board, supporting the University with its philanthropic activities, and so a position on the Board was a logical next step and the pinnacle of my journey with the University post-graduation. To be able to give back to the University is both an honour and a privilege.
What are your top three core skills (or areas of expertise) that you bring to the Board?
Board Skills (I have a portfolio of non-executive roles including being Chairman of Royal Bank of Canada (Europe), Chairman of the Yehudi Menuhin School and Chairman of a Fintech Company called Archax.
Finance skills – my executive career has been mainly in the finance sector; and
An understanding of large and diverse complex businesses, including the University itself drawn from both my executive and non-executive career.
What are the three things that have impressed you most about the University in your time on the Board?
The quality, leadership, strategic thinking and energy from Nancy and her Senior Leadership Team;
The reputation of The University of Manchester as a world-class research-led university and the breadth and depth of all that the University does;
The collaborative and cooperative nature of all that the University does – culture led from the top.
What's been the most challenging topics you've had to discuss/take a view on so far in your Board deliberations?
Finding ways to improve and enhance the student experience;
Steering the University through challenging economic times;
What would your top three tips to anyone who wanted to take on a Board Member role in the future?
Be passionate about Higher Education and working with one of the world's leading Universities.
Have a skill or expertise to contribute to the board. Make the University part of your life so that solutions to similar problems you solve in other places can be brought to the Board for discussion.
Get involved – meet people, see faculties, schools, buildings, student accommodation. Join events, be visible and accessible.
When not working or acting on the Board of Governors, what do you focus on doing professionally?
I am a portfolio non-executive director, with Board positions on organisations and companies in the Finance and Arts and Education worlds.
When you are not working, what are your hobbies/interests?
Classical music, travel and fine wine.
And to finish up...favourite film, book and piece of music?
Wagner's Ring Cycle. Music doesn't get better than this for a totally immersive and emotional experience!