Our future - Our people, our values
18 Jul 2022
What we've achieved in the Our people, our values theme of our strategic plan and what's next.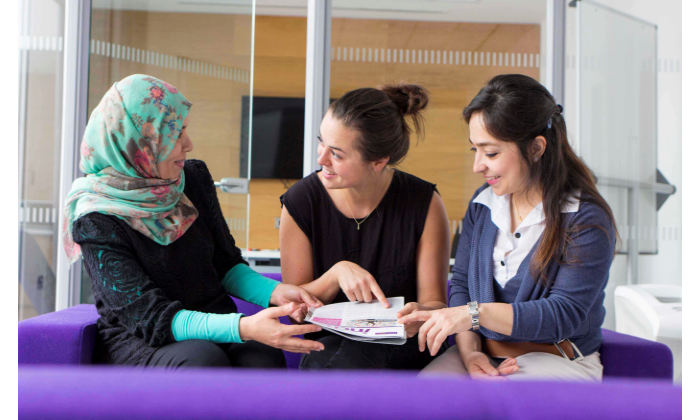 Our people and our values are at the core of everything we do.
We aim to transform how colleagues across the institution work together and in partnership with our students, alumni and external partners. We will continue to be a great place to work and study. To deliver our ambitions we have planned initiatives in five key areas. They are great people doing great things, wellbeing, equality, diversity and inclusion, environment and facilities to support our people, and our values.
You can find out more about these from our theme plan.
Achievements to July 2022
Great people, doing great things
We have delivered a step change in our student communications and engagement. Working in conjunction with our students, we launched our student communications commitment. This continues to evolve through regular input from student representatives and via our students' perspectives group. 
Wellbeing
We have launched a new Employee Assistance Programme, which further complements the wellbeing support we have in place. In addition to this we continue to support the Great Manchester Mental Health service for students (shared Teaching and learning/Our people, our values). Across a number of our PS areas, where it is possible, we have successfully piloted hybrid working.
Equality, diversity and inclusion
We set up the Directorate for Equality, Diversity and Inclusion (EDI) with Banji Adewumi, our first Director for EDI, starting Aug 2021. Her appointment recognised the importance of this area and our need to do much more and act more quickly. Since that time a considerable amount of work has been done to develop an institutional EDI strategy, which will be launched in the autumn. 
Environment and facilities that support our people
We have completed the major work on the Engineering Buildings A and B which form the home of Engineering and Materials (formerly known as MECD). Staff and students are now using this purpose-built flexible space, and the final moves of staff and equipment will take place throughout 2022.
We have developed an implementation plan to deliver our Zero Carbon commitment. Our commitment is to become a zero-carbon university by 2038. This includes divesting from fossil fuel and other carbon intensive investments (shared Social Responsibility/Our people, our values).
Our values
Achieved top status in the world in 2021 for performance on the SDGs and ninth place in 2022 (shared Social Responsibility/Our people, our values).
Focus for 2022/23
Great people, doing great things and EDI
Over the next year, following their formal adoption this summer, we will implement our P&OD and EDI strategies. This will transform our services and our approach in these areas (shared Social Responsibility/Our people, our values).
We will be progressing our strategic change programmes, prioritising the delivery of IT Stabilisation, Finance Transformation and Student Experience Programme.
In 2024 we will celebrate our bicentenary together. Harnessing the collective strength of our University community of staff, students, alumni and supporters, we will celebrate our achievements and look ahead to what we can achieve together in our third century.
Environment and facilities that support our people
We are looking to further develop hybrid working and teaching spaces. We hope to create additional teaching capacity in the Rutherford Building and a more flexible hybrid workspace in John Owen's building.