Meet Murray... Manchester Museum's therapy dog
28 Jan 2022
The Border collie puppy is currently undertaking training to become a therapy dog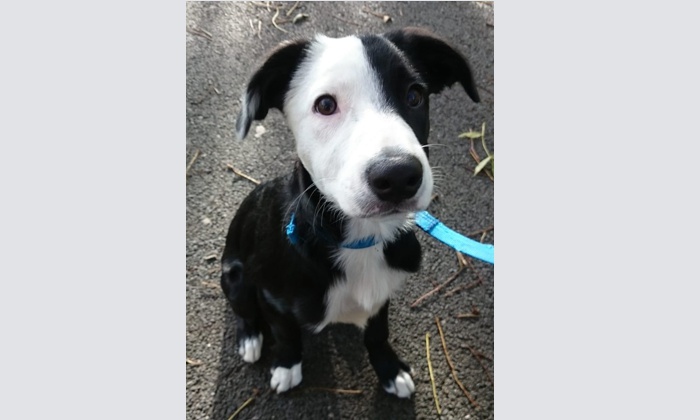 The new team member at Manchester Museum is already proving a hit with colleagues and even has his own Twitter social media account. 
Karen Brackenridge, Culture, Health & Wellbeing Assistant, will be caring for Murray when he's on duty in the Museum and he's had a couple of orientation sessions around the galleries and office areas. Karen will be Murray's PA - Pooch Assistant!
As well as getting used to the Museum environment, Murray is undertaking his official therapy-focused behaviours/response training with Allan Todd at Dogs Aloud Doggy Day Care. This also gives him the opportunity to meet other dogs and develop his socialisation skills. 
Wendy Gallagher, Head of Civic Engagement and Education, is Murray's owner and continues his training at home. In her blog, Don't Worry, Meet Murray, Wendy explains more about therapy dogs. It's a general term used to describe a dog whose job is to benefit people in a therapeutic way. This covers a wide range of activities: some take part in visiting programmes, while others take part in structured activities as part of a therapeutic programme or practice. Any breed of dog can become a therapy dog, however, it's important that they are assessed by a professional dog trainer to determine their suitability.
The benefits of Animal Assisted Therapies (AAT) have been extensively studied. The impacts of therapy dogs range from general health and wellbeing improvements to increased confidence levels and improved communication skills. Dogs have also been shown to help both children and adults with additional needs and autism by providing a focus as well as through their calming effects.
There is no doubt that Murray will bring a smile to the faces of colleagues and visitors to the Museum - we hope to see him around campus very soon! #MeetMurray #IMetMurraySelfies