A magnificent Manchester Christmas Dinner
18 Jan 2022
The Manchester Christmas Dinner 2021 for care leavers was another great success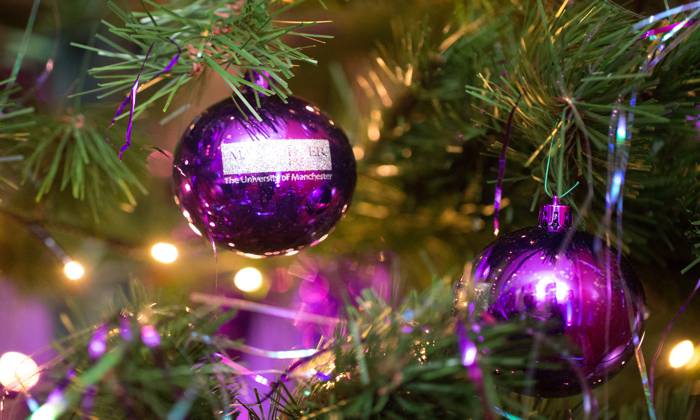 Many colleagues will be aware that Manchester Christmas Dinners is part of a wider movement of Christmas dinners across the country for care leavers aged 18-25 started by our Chancellor Lemn Sissay OBE.
Each Christmas dinner is hosted  for care leavers who would otherwise be on their own on Christmas Day.  For many of these young people it is a reminder that they do not have family and can be the loneliest time of year.
Our University has supported the Manchester Christmas Dinners over the years.  In previous years, our University has provided a venue, colleagues volunteer by sitting on the steering group, wrapping presents, driving or hosting on Christmas Eve or Christmas Day. Many staff also buy gifts for care leavers to open on Christmas Day from an online wishlist.
This year we could not hold the Manchester Christmas Dinner in a venue so we delivered to them.
On Christmas Eve, we delivered a bag for life full of food donated by Booths and Broderick's.  Stockings full of decorations created by crafters across Manchester along with a small Christmas tree.  Plus a breakfast box as a treat for Christmas morning made by the lovely girls from Nibble NQ.
Christmas Day we returned with presents and Christmas Dinner made by Sam's Chop House.  The most amazing quilts were given as hugs created by Quilters across the country to give each care leaver a hug.
Thank you to all who helped make this happen - both volunteers and those who donated.