Nominations open for the Volunteer of the Year Awards 2022
13 Jan 2022
Find out how to make your nominations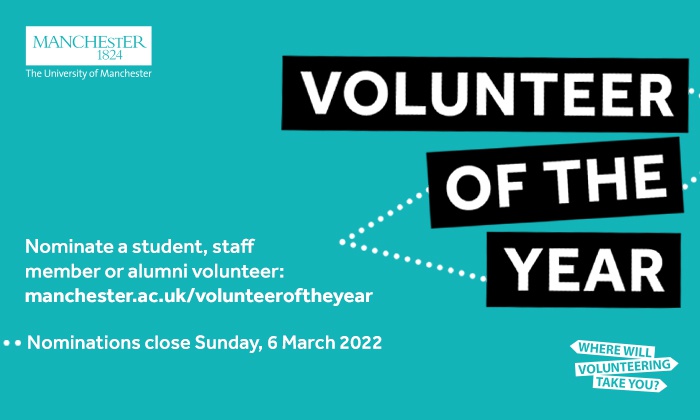 The impact of the pandemic has shown just how incredible volunteers are, from supporting the vaccination programme, to foodbank donations and helping neighbours. Now is your chance to recognise their ongoing efforts in our annual Volunteer of the Year Awards!
Celebrating the very best of volunteering, the awards give our University and our community partners the opportunity to recognise those who epitomise what it means to make a difference. There are three individual categories: student, staff and alumni; and one group category for students.
Very often, the nominees who get recognised have been put forward by someone who knows them at the University, and are often in a great position to explain the difference these individuals have made to their communities.
Last year's winners set up projects including Manchester National Health Supporters which supported NHS workers at the height of the pandemic, the Intergen Buddy Scheme, which tackles social isolation, the Women in Academia Support Network, and Chifundo UK and Chanasa Malawi which empowers girls and women through education and income-generation projects.
Be inspired by the stories of our past winners and place your nomination on the Volunteer of the Year Awards website.
Important information:
Entries to be submitted to the volunteering website
Deadline for entries is Sunday, 6 March (midnight)
Candidates can self-nominate or be nominated by a third party
Individuals and teams (for student group) can enter
If you have any trouble accessing the nomination form, please email volunteers@manchester.ac.uk