Last chance before the deadline: apply to be a Microsoft 365 Digital Champion
07 Dec 2021
Staff and researchers are invited to apply by 11pm on Friday 10 December, for a chance to become one of our Microsoft 365 (M365) Digital Champions. Apply today to make a difference.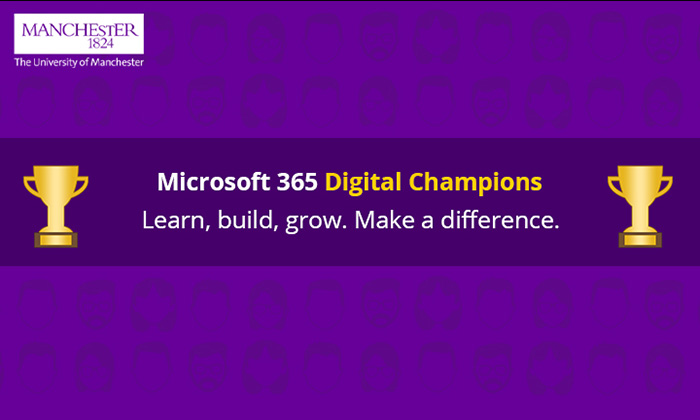 Thank you to all staff and researchers who have applied so far for a chance to join our M365 Digital Champions Network – over 200 of you! Applications are only open for a limited period, and we are looking to recruit from all areas of the University. Shortlisted champions will receive 12 months of structured training in Microsoft 365; using this to provide peer support and guidance to their local area and the wider University. 
The training will include new and existing digital tools and will cover Teams, OneNote, SharePoint, OneDrive, Planner, Forms and more, as well as improving skills in more familiar products like Word, Excel and PowerPoint, helping you and your colleagues to learn, work smarter, more efficiently, and importantly – have fun whilst doing it!  ​
The programme will be delivered remotely by our external partners and will typically require a time commitment of around one- two hours a week over a 12-month period, which could be done flexibly to accommodate peaks and troughs in your workload. Before applying you will need to seek the permission of your line manager.
Our application form should take less than five minutes to complete with a closing date of Friday 10 December at 11pm.
Final places will be awarded to ensure a fair representation of staff from all Faculties, Directorates, and Institutes. In cases of oversubscription, final decisions will be made by senior leadership teams. Applicants will find out if they have been successful or not by Tuesday 11 January. Further training phases may be introduced if the demand is there.
To apply or find out more please visit our Digital Champions page: