Staff benefits and wellbeing update
25 Nov 2021
Christmas is coming to Jodrell Bank, how to support local Christmas appeals, you're invited to a talk by charity Shelter and a community vigil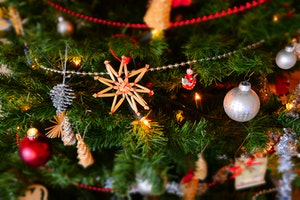 Christmas is rapidly approaching and if you haven't already found the perfect presents, The Jodrell Bank Christmas Shop has now launched with some extra-special, out-of-this-world gift ideas, from toddling space explorers to fully-grown astronauts.
And, if you fancy a browse with a difference, save a date for Jodrell Bank's Christmas Weekends on 27-28 November and 4-5 December. They'll be open later than usual (10am - 6pm). Anyone can pop into the Jodrell Bank Gift Shop and Planet Café free of charge for a spot of Christmas shopping. There'll be product demos and special offers, including telescope demonstrations 1pm-6pm on each Sunday. Visitors can also pay admission to explore the Jodrell Bank site while they're here and enjoy special live science shows, storytelling sessions, and star-making craft activities –Great for all the family!
There is 10% discount in the Jodrell Bank gift shop, online or in person, for all UoM staff. The code to use online is SPACE10. When purchasing in person, remember to bring your staff card!
Our new Home and Electronics employee benefit gives you access to a wide range of products available from both John Lewis & Partners and Currys, you have access to thousands of home and technology must-haves! Download the latest poster and share to others. The benefit makes it more manageable by enabling you to spread the cost of items through monthly salary reductions. To access this benefit and the full range of lifestyle benefits you'll need to be registered on our Vivup benefits website, so if you haven't yet done so register now at vivup.co.uk . You will need to enter your employee/payroll number when registering for the first time.  You can find this on your payslip online or staff ID card.
Talk by Shelter
Fabienne Clough from Shelter will be joining us to talk about the work they do to support people affected by the housing emergency across Manchester and how we can get involved with their winter campaign and activities.  Talk details: Tuesday 30 November, 12pm – 12.30pm. Please email staffbenefits@manchester.ac.uk for the Teams link.
Shelter have also invited all University staff to join them on Thursday, 9th December at their annual vigil to remember those who have lost their lives this year, as a result of homelessness. This year you will hear from speakers at Invisible Cities and Shelter whilst showcasing the photography project of Cristina Mallai.
How to support local Christmas appeals
Wood Street Mission is appealing for donations of new toys and gifts including toiletries and books, unwrapped for ages 0-14 years old. You can view the Wood Street Mission Christmas wish list for further suggestions. Financial donations are also welcome through the Wood Street Mission website.
On Tues, 7 December, the Fossils Gallery at Manchester Museum will be open from 10am to 4.30pm so that people can drop off donations for Invisible Cities, a charity supporting homeless people. On the day you have the chance to take a selfie with Stan the T.rex! Check what donations are needed.
For further information see staff benefits and wellbeing.