Online Irene Manton Linnean Society Annual Lecture
12 Nov 2021
The Linnean Society is welcomed back for the second online Irene Manton lecture on 7 December 2021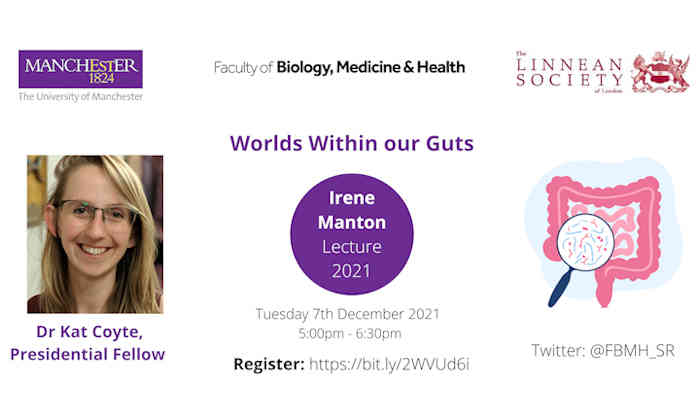 This year's lecture will be delivered by Dr Kat Coyte, Presidential Fellow (Research) at the University. In her lecture entitled 'Worlds within our Guts', Kat will highlight how we can combine mathematics, big data and simple experiments to understand, and perhaps even manipulate, our own microbial communities.
Now in its seventh year, the Irene Manton Linnean Society Annual Lecture aims to inspire and inform everyone in contemporary biology and botany and the role that women scientists play.
The event is free and open to everyone, with sixth form students particularly welcome.
Event details

This year's event will be live streamed on the Faculty of Biology, Medicine and Health's Facebook account (Facebook account not required) at 5pm on Tuesday, 7 December.
Please register via Eventbrite.
We look forward to seeing you there for what will be a truly inspiring evening.
If you have any queries about this event please contact srbmh@manchester.ac.uk.