Automated External Defibrillators and new First Aid posters
05 Nov 2021
An update for colleagues from Safety Services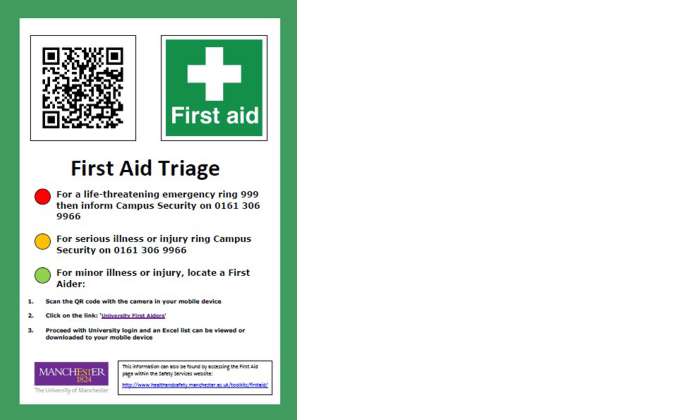 If someone is taken ill and you need an Automated External Defibrillator (AED) please contact Security by phone on 0161 306 9966 or by pressing the First Aid button on the SafeZone App. 
An AED can greatly increase the chances of saving the life of a person who has gone in to cardiac arrest.
The location of AEDs has been temporarily reviewed due to a worldwide battery shortage to maximise coverage across Campus. The interactive map has been updated and will be kept under review.
New First Aid posters have been displayed in academic buildings in communal areas such as foyers and corridors that use a QR code to link to the list of First Aiders. This list is arranged by building and is maintained and updated regularly by Safety Services so will always have the most current information.
If you are having difficulty accessing the list or need a First Aider urgently contact Security on 0161 306 9966 or via the First Aid button on the SafeZone App.
If more local information is required in specific locations such as labs, your Compliance and Risk managers are able to produce a bespoke poster for you. This information will need to be updated by the relevant local staff where necessary.