Leading University researchers to attend COP26 negotiations
19 Aug 2021
Nine researchers from the University will attend the Blue Zone at COP26, the UN Climate Change summit, to observe the negotiations that will be fundamental to securing the future of our planet.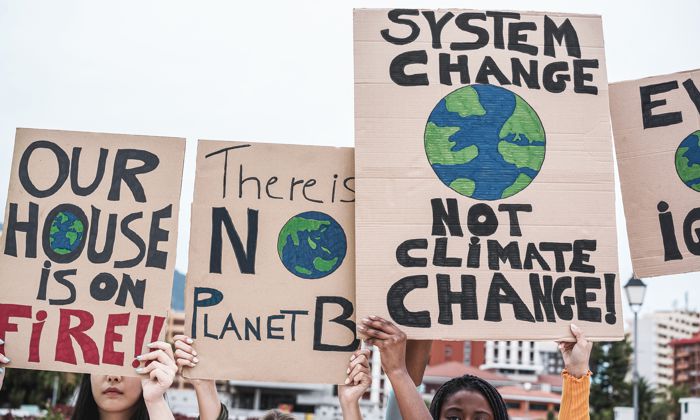 They will ensure that Manchester plays a role in driving a successful COP26, by supporting attending governments, businesses and civil bodies and providing them with the academic insight to guide decisive action.
They will also use the negotiations to inform their own research, ensuring Manchester continues to play a leading role in the development of real-world solutions.
Manchester is one of only a number of UK universities awarded Blue Zone passes to COP26, a result of its long-standing The United Nations Framework Convention on Climate Change (UNFCCC) observer status.
The researchers who will attend over the course of the two-week Summit are:
Professor Kevin Anderson, Professor of Energy and Climate Change
Dr Jenna C. Ashton, Lecturer in Heritage Studies in the Institute for Cultural Practices
Dr Christopher Jones, Knowledge Exchange Fellow at Tyndall Manchester
Professor Alice Larkin, Professor of Climate Science and Energy Policy and Head of School of Engineering
Dr Sarah Mander, Co-Director for Research at Tyndall Manchester
Professor Carly McLachlan, Professor of Climate and Energy Policy, Director of Tyndall Manchester and University Academic Lead for Carbon
Professor Matthew Paterson, Professor of International Politics in the School of Social Sciences
Dr Joe Ravetz, Planning & Environmental Manager at the Manchester Urban Institute
Dr Stephanie Sodero, Lecturer in Responses to Climate Crises in the Humanitarian and Conflict Response Institute.
The diverse expertise of this delegation, spanning social science and engineering, reflects the unique depth and breadth of our world-leading research. This expertise is drawn together in Sustainable Futures, which brings together Manchester's innovative, interdisciplinary approach to environmental research.
Colette Fagan, FAcSS, Vice-President for Research explained: "I am delighted that our University will be represented at this important event by this strong delegation of researchers, selected from the many disciplines and research groups that are committed to helping solve the climate crisis and influencing the COP26 agenda."
This attendance at COP26 is just one example of how the University 600+ researchers in energy, climate change and sustainability are catalysing climate action. The impact of their ongoing work has been recognised in our number one Times Higher Education University Impact ranking; while other key activities include:
Sustainable Futures, which will launch to external partners on 20 October 2021. This launch will bring together researchers from across the University of Manchester and key external stakeholders to discuss activity underway in Sustainable Futures. Contact Lauren.Mullan@manchester.ac.uk  for further information and to get involved.
Participation in the University's Climate Questions communications campaign, including the four-day Manchester Festival of Climate Action, designed to share our insight, in order to help catalyse the decisive action so desperately needed. Contact joanne.d'angelo@manchester.ac.uk for further information and to get involved.
Participation in COP26 Universities Network, a growing group of over 80 UK-based universities and research centres working together to raise ambition for tangible outcomes from the UN COP26 Climate Change Conference. 
More information
COP26, which takes place in Glasgow between 1-12 November 2021, will bring together over 30,000 delegates from 197 countries to unite the world in tackling climate change. It comes at a crucial time, following last week's UN's Intergovernmental Panel on Climate Change (IPCC) report which showed that climate change is "widespread, rapid and intensifying".
The Blue Zone is the UN-managed space which hosts the negotiations.
Manchester academics have had a dedicated presence at the COP summits over the last two decades.