Winners announced: our Volunteer of the Year Awards
12 May 2021
Our annual Volunteer of the Year Awards took place online earlier today (Wednesday, 12 May)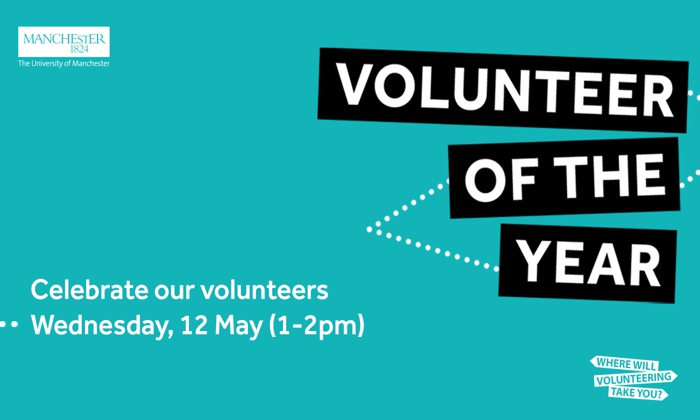 Today, the volunteering team premiered their annual Volunteer of the Year Awards which celebrates the incredible actions of volunteers from across the University.
Viewers tuned in to watch the event live which was hosted on the @UoMVolunteering Facebook page. A hundred people tuned in to watch the Awards and see the winners revealed across staff, alumni, student group and student categories.  
Overall Prize Winners
Alumni Category: Susan Flynn
Susan Flynn completed a Postgraduate Diploma in Social and Pastoral Theology. She has set up not one, but two charities: Chifundo UK and Chanasa Malawi, which work together to empower girls and women through education and income-generation projects.
Student Groups Category: Intergen Buddy Scheme
The Intergen Buddy Scheme was set up in response to the COVID19 pandemic. This project matches student volunteers with older members of the community, providing a phone-call chat once or twice a week to combat loneliness and social isolation.
Staff Category: Dr Amy Bonsall
Dr Amy Bonsall  is a Research Assistant in the School of Engineering. She founded the Women in Academia Support Network which now has over 11,000 members worldwide. The network provides a safe space for people to learn about oppression related to race, disability, sex and gender-based violence.
Student Category: Saif Khan
Medical Sciences student Saif, started the Manchester National Health Supporters network to support health care professionals during the pandemic. More than 450 students signed up to help NHS workers with daily errands - collecting groceries, babysitting children, walking pets and staffing receptions at GP surgeries.
Congratulations to all the winners and thank you to everyone who nominated and watched this year's awards. If you missed out, you can watch the Volunteer of the Year Awards online.