Looking back: The Christie Library
20 Jan 2021
We take a look at the illustrious origins of the Christie Library, one of the most recognisable buildings on our campus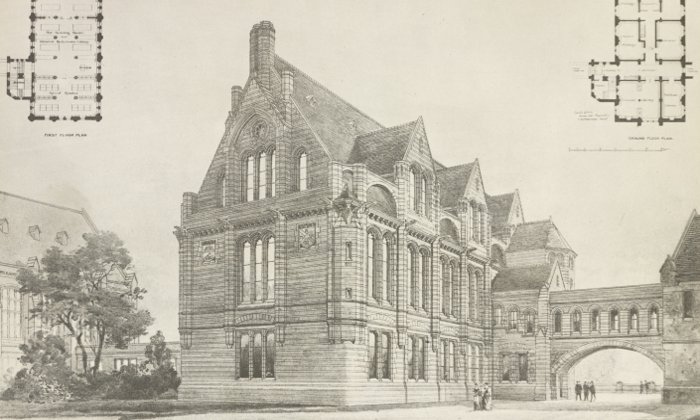 Many of us will have enjoyed coffee and a cake or lunch in the magnificent surroundings of Christie's Bistro, the former library with stained glass windows, antique bookshelves and historic portraits. As many of us continue to work from home, we delve into our University's archives to bring you a snapshot of campus heritage and history. 
The Christie Library was built between 1895–8, designed by the prolific English architect Alfred Waterhouse. It was the gift of Richard Copley Christie - historian, bibliophile, lawyer and executor of Joseph Whitworth.
Richard Copley Christie was the son of Manchester mill owner Lorenzo Christie. Richard was educated at home before entering Lincoln College, Oxford, where he became a pupil and friend of Mark Pattison, a historian who believed that scholarship was the core vocation of universities. 
He returned north, aged 23, as Professor of Ancient and Modern History at the newly-founded Owens College, then housed on Quay Street in central Manchester. During the following year, he also taught political economy and commercial science. Having originally intended to study law, he registered as a trainee barrister at Lincoln's Inn. In 1855 he added law to his professorships at Owens and in 1857 began his Manchester practice in commercial law.
Although Christie's wealth came primarily from his career as a barrister, like many of the University's early benefactors his family was connected to the products of slavery, as his father Lorenzo owned a mill at Edale, Derbyshire, which may have processed slave-grown cotton.
Christie was a keen supporter of education for working men, as well as higher education; throughout his life he promoted the college and the subsequent University. By 1869, the growth of his legal practice caused him to withdraw from his teaching work, but he continued his studies of the Renaissance. He was a lifelong supporter of local history, bibliography and the improvement of libraries.
A close associate of engineer Sir Joseph Whitworth, he was one of three trustees to whom Whitworth left his fortune. Christie paid for the construction of Whitworth Hall (which stands adjacent to the Christie Building) and from his own resources he funded the building of the Christie Library. The illustration above, which dates from 1896, shows a proposal for a bridge connecting the Christie Building to John Owens Building, however this was never built.
Christie donated 75,000 volumes to the Library which are now mostly housed at the John Rylands Library on Deansgate. Christie's wife helped persuade him to give funds for a 'cancer pavilion', opened in 1892, from which the Christie Cancer Hospital in Withington developed. 
The collections in the Christie Library served the whole University, excepting medicine, until the Arts Library opened in 1937. The building has since been redeveloped as offices and Christie's Bistro is located on the first floor. While the Bistro mainly serves hungry staff, students and visitors during the day, it also hosts events including wedding receptions, and is often described as one of Manchester's 'hidden gems'. 
Did you know?
Among those commemorated in the building is a bust of Robert Angus Smith, a Victorian chemist whose air pollution investigations led to the discovery of acid rain, and a portrait of Lord Woolton, whose famous meatless pie kept Britons fed during World War II.
Find out more
The illustration above is just one of many from our University's archives of records and documents which tell the story of our University's history and heritage. Some of these are available to view online through our digital collections.