Jodrell Bank Discovery Centre celebrates bumper Christmas online shopping sales
06 Jan 2021
The Jodrell Bank Discovery Centre has raised over £7,500 in sales through its online Gift Shop, an incredible 500% increase on the previous year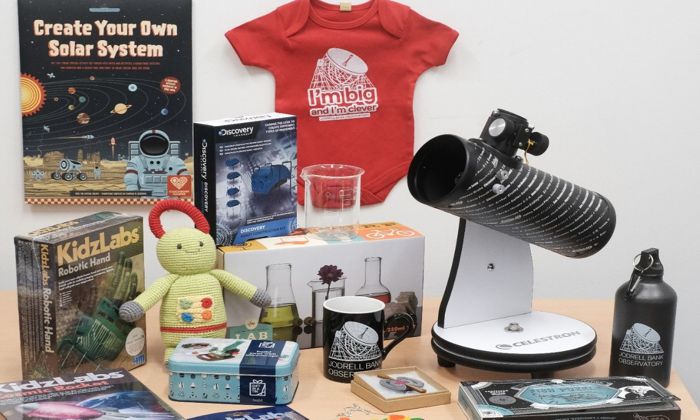 After closing to visitors in early November in accordance with national restrictions, the Jodrell Bank Gift Shop had to move quickly to online-only in order to catch the Christmas market. Their Retail and Marketing teams then spent the next two months working hard behind the scenes to deliver a record-breaking Christmas campaign.
Amanda Labella, Cultural Enterprise Manager at Jodrell Bank Discovery Centre explains: "When we were no longer able to open our physical shop due to the closures, we knew we had to increase our range online. We moved quickly to add more items to our online platform and re-launch it just as people were starting to think about Christmas shopping."
The team then devised and delivered a retail marketing campaign to quickly raise awareness and promote the online shop to both new and returning customers. By making use of existing customer databases, social media channels, special offers, influencers and local networks, they were able to carry out an efficient and agile campaign with very little budget and to an unusually tight deadline. 
Amy Bishop, Marketing Manager at Jodrell Bank Discovery Centre said: "As soon as we launched the Christmas shop online, we were sure to maintain the momentum by updating it with new products, special offers and news stories each week in the lead up to Christmas. It was fantastic to see the results of our hard work. We even had to adjust our income targets to reflect the successes we were seeing."
During what has, and continues to be, an uncertain period of restrictions and closures, having an online outlet to help raise funds has been a lifeline for the Jodrell Bank Gift Shop.
Amanda continues: "Although we have had a rudimentary online shop function for a number of years, it's always taken a back seat to our main Discovery Centre shop as, in truth, it's far from ideal. This Christmas, however, it needed to be front and centre of our retail operation so we had to adapt the infrastructure as best we could.
"Of course, moving to online-only presented a number of other challenges too, not least in delivery. The orders were coming in so fast, it was a huge physical effort to parcel up all the products ready for posting."
By far the most popular items sold were their exclusive astronomical facemasks. The masks, which were commissioned by Amanda and produced by local business ReWearable Clothing, are made from upcycled materials and feature space-themed designs including constellations, galaxies and planets. Other popular products included the famous Jodrell Bank constellation umbrellas, astronomy starter kits and unique Christmas decorations.
Lorna Harper, Deputy Director of Jodrell Bank Discovery Centre said: "Our staff have worked really hard on this and their achievements are impressive, especially considering the restrictions of the particular online platform they have been using. We are incredibly grateful to all our wonderful customers too, who chose to demonstrate their support by shopping with us in the lead up to Christmas.
"Every purchase makes a real difference and will help us to re-build, re-open and get back to what we do best."
The team continue to work hard behind the scenes as they launch their January Sale while also looking to the future with further development of their online shop platform.