What works? Your experiences of working during lockdown
10 Sep 2020
A summary of key findings is now available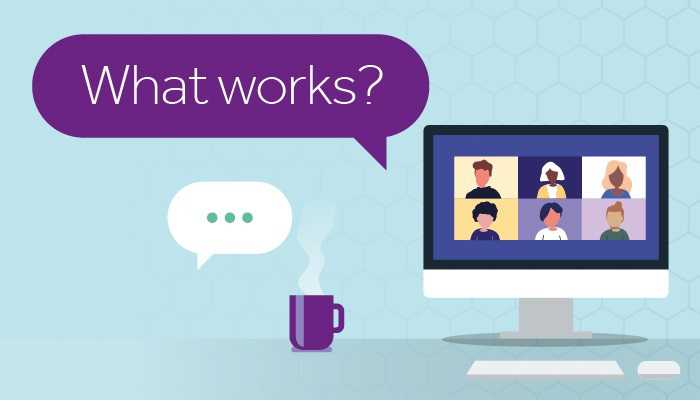 Dear colleagues
During July and August more than 2,000 colleagues shared their experiences of working at our University during lockdown.  Thank you to everyone who took part.
Whilst COVID-19 has brought with it uncertainty for some staff, the feedback from What works? highlights there is also an opportunity to build upon what we have learnt to shape how we work differently in the future.
We have put together some infographics to illustrate the key findings of What works?:
In summary the feedback shows:
49% said they were benefitting from working more flexibly, both in terms of working from home and working more flexible hours.  Many reported feeling trusted and empowered by their manager and were being more productive as a result. 
Staff said they were enjoying not having to commute, saving time and money, contributing to a better work-life balance and having a positive impact on the environment.  
Colleagues have been impressed by how quickly they, and the University as a whole, have adapted to new ways of doing things, in particular using Zoom to communicate and collaborate. 
63.5% of respondents want more flexibility in the future, expressing a preference for a blended model of both home and on-campus working and felt that opportunities for flexible working should be available across all grades.
Colleagues have also experienced challenges over the past six months including:
Staff said they are missing face-to-face interaction and would welcome opportunities to work on campus for part of the week to spend time with colleagues and collaborate.
The conditions which staff are working in at home vary, with some not having adequate space or equipment to do their jobs effectively and reporting that this is having an impact on their wellbeing and mental health.
On campus 'meeting overload' has translated into 'Zoom overload' however colleagues were keen to keep meetings online when returning to work on campus.
Those with caring responsibilities talked about the challenges of home schooling/caring for very young children, or looking after shielding family members and working. 
There are inconsistencies in the support staff have received from their line manager.  Whilst some colleagues said they have been well supported by their manager, others reporting having very little or no contact with their line manager during lockdown.
All of the findings will be considered by senior leadership groups, including the Foresight Group, which I chair and is focused on the medium to long-term future of our University in a post-COVID-19 world.  We will also use your feedback to shape our shorter-term engagement and wellbeing plans, and support and guidance for all staff.
Best wishes
Luke, Professor Luke Georghiou, Deputy President and Deputy Vice-Chancellor