WATCH: Celebration to mark University receiving Queen's Anniversary Prize
27 Aug 2020
The Manchester Institute for Biotechnology (MIB) was awarded the Queen's Anniversary Prize for its work supporting the UK's leading position in biotechnology and biomanufacturing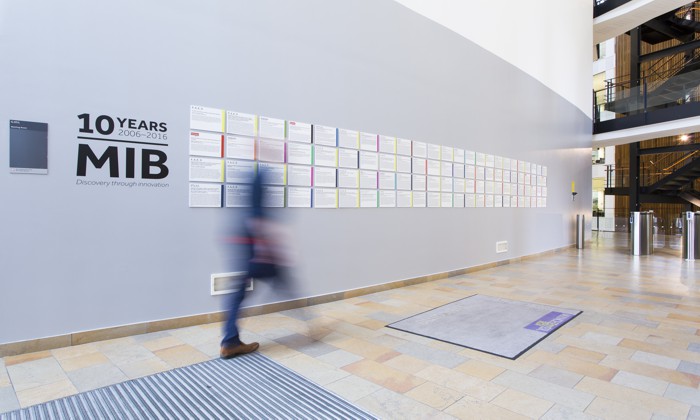 On Monday, 7 September at 4pm a celebration will be held to mark the award of a Queen's Anniversary Prize for Higher and Further Education to the world-leading Manchester Institute of Biotechnology (MIB) at The University of Manchester.
Queen's Anniversary Prizes are the highest national honours awarded in UK Higher and Further Education.
The MIB has been recognised as a UK centre of excellence that is making a global impact - finding alternative and more sustainable fuels, medicines and advanced materials.
President and Vice-Chancellor Professor Dame Nancy Rothwell will be joined by civic and University leaders, funders and industry and academic partners, plus staff and students at this digital celebration. The event will acknowledge the world-class outputs of the MIB and the hard work of both its research and Professional Services staff to help make the Institute a centre of international excellence, a little more than a decade after its launch.
The online celebration will start at 4pm with a welcome and introduction from Professor Rothwell, who will be followed by:
Sir Warren Smith, Lord-Lieutenant of Greater Manchester, who will speak about the significance of the Prize and Professor Martin Schröder, Vice-President of the University and Dean of the Faculty of Science and Engineering, who will talk about the MIB's national and global significance.
Professor Nigel Scrutton, Director of the EPSRC/BBSRC Future Biomanufacturing Research Hub led by Manchester, will describe the successful research strategy that led up to the MIB being awarded the Queen's Anniversary Prize; while MIB Director Professor Robert Field will outline the vision and strategy going forward.
The event will also include a Q&A panel session chaired by Professor Rothwell, and Edward Astle, Chair of the University's Board of Governors, will deliver the closing remarks before the screening of a fast-cut and informative video showcasing the exciting research led by the MIB. 
Alternatively you can watch the event on the day via livestream.
A recording of the event will also be available on StaffNet from Tuesday, 8 September.