Chancellor to feature in first episode of new BBC documentary series
22 Jul 2020
Imagine… BBC Arts' flagship documentary series for BBC One returns this summer with a new line-up of films, including writer and poet Chancellor Lemn Sissay MBE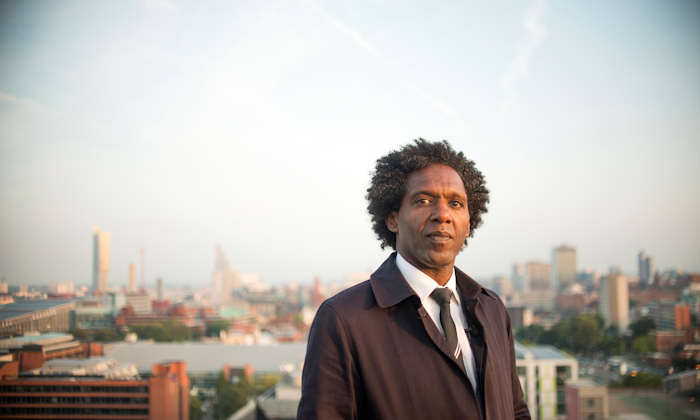 Lemn Sissay's writings are a source of inspiration to huge numbers of people around the world - from the landmark poems on the walls and buildings of Manchester and beyond, to the contemplative dawn verses, published each morning on social media, his words bring solace and light to readers across the globe.
Following the publication of his new memoir My Name Is Why, he tells Alan Yentob what it was like to grow up as the only black child in a sleepy market town outside Wigan in the 1970. Before being catapulted into the broken care system at the dawn of the 1980s, he discusses how he was separated from his foster family at the tender age of twelve and left to fend for himself. His journey since has been one of discovery, learning, not just that his name was Lemn, but that his parents were Ethiopian, a country he returns to for this film, to find out more about his roots.
Featuring contributions from some of the well-known names Lemn has shared the stage with, such as Steve Coogan, Benjamin Zephaniah, Linton Kwesi Johnson and Julie Hesmondhalgh, as well as his close network of friends and supporters from his years in care. This is the story of the boy whose name meant Why.
Alan Yentob, presenter and Series Editor, says: "We all need to acknowledge and celebrate the remarkable contribution that diversity makes to creativity and in this season of imagine… that message resonates loud and clear."
Tanya Hudson, Executive Producer, BBC Studios adds: "imagine… celebrates and explores the best in creativity both in the UK and internationally. Now, more than ever, arts and culture play a vital role in our lives and in this new series we encounter world class creatives whose work and life experiences help confront many of the critical issues that face us today."