Professor Nigel Hooper appointed as Associate Vice-President for Research
10 Jul 2020
Working with the Vice-President for Research, Professor Colette Fagan, Nigel's role will include a focus on promoting and facilitating interdisciplinary research across the University, with lead oversight for the governance of our portfolio of research beacons, institutes, and research platforms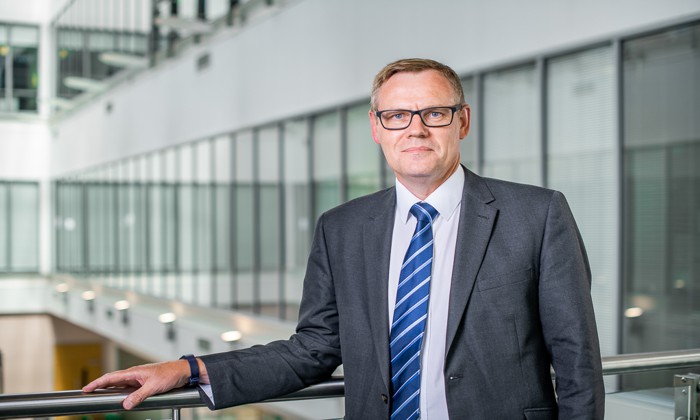 This part of his portfolio is one of our strategic priorities within the Research and Discovery theme of Our future. Nigel joins Professor Melissa Westwood, Associate Vice-President for Research, who leads on postgraduate researchers and research staff, and replaces Professor Stephen Yeates, who is retiring.
Nigel is currently Vice-Dean for Research and Innovation in the Faculty of Biology, Medicine and Health, a role he has held since 2016. In this role he has developed a new Research and Innovation Strategy for the Faculty, led on the appointment of Presidential Fellows and the implementation of a mid-term review for independently funded Research Fellows, and overseen the Faculty's preparations for REF2021.
Nigel joined The University of Manchester in 2014 as Professor of Cell Biology. His research is focused on understanding the molecular and cellular mechanisms that contribute to neurodegeneration so as to identify new approaches for prevention, diagnosis and intervention in dementia. Nigel has published over 200 scientific papers and was recognised in 2016 by election as a Fellow of the Royal Society of Biology.
Nigel said: "I am looking forward to working with colleagues from across the University to build on our strengths in interdisciplinary research by bringing together people from across disciplines to find new solutions to society's biggest questions. I am particularly keen to exploit opportunities that are unique to Manchester, both in terms of the questions we address but also in our integrated one Manchester team approach."
Professor Colette Fagan said: "I am delighted that Nigel has accepted this position. He has made an excellent contribution to the University Research Strategy as a Vice-Dean and will now extend his leadership in this University-wide role."
Nigel will take up his new post from 1 September 2020.