Back to the lab: An insight into return to campus
03 Jul 2020
Senior Technical Operations Manager John Moore and Postgraduate Researcher Sarah Brown from the School of Environment, Education and Development reveal what it's like to return to campus after lockdown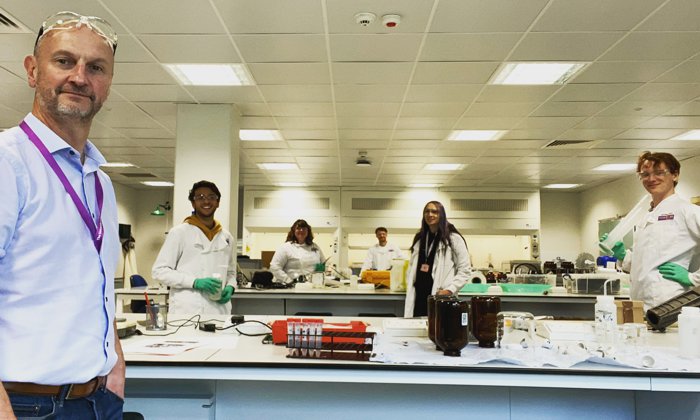 John Moore, Senior Technical Operations Manager
"When we went into lockdown it was at such short notice our postgrads and researchers had very little time to come up with a contingency for meticulously planned analytical work. The hope was that we would only be off campus for a relatively short period. It soon became apparent that the lockdown was going to remain in place for quite some time and there would need to be some negotiation on extending research deadlines. Following Government advice on the opening of specific workplaces, work began to produce codes of practice and appropriate guidance for opening research critical areas.
"We have been lucky enough to have fantastic support from our Faculty Estates Department, Compliance Office and Health and Safety Services. Opening of the Geography Laboratories has been a great team effort which has made a massive positive impact on our postgrads and researchers who can now resume critical analytical research work.  There has been a great buzz this week in the laboratories as our researchers returned for COVID-19 lab inductions and have embraced the new way of working in the laboratories. 
"Going forward, the pandemic has shown the importance of research in planning for potential future global events. Environmental research couldn't be a more important focus."
Sarah Brown, Postgraduate Researcher
"I'm a final year Geography PhD student, finishing up the remainder of my empirical lab work. Lockdown and University closures put my lab work on indefinite pause and meant I was unable to make meaningful progress on my thesis. Not knowing when labs would open again was particularly stressful.
"However, today I had my first day working in the Geography labs after three months of lockdown. Its been brilliant and I feel incredibly safe with regard to COVID-19, a testament to the efforts of lab and Estates teams to get lab research happening again. There are loads of safety measures in place to help us maintain social distancing and a thorough and reassuring risk assessment for the whole lab. I'm now able to update my Gantt chart and start planning the completion of my thesis again.
"It's a relief to be back, and I want to reassure students worried about when they're going to be able to return to their labs that teams across the University are doing their best to make that happen."