Our Lockdown Lectures gain huge audience reach
05 Jun 2020
Launched on 18 May, our lectures have featured some of the nation's foremost scientists, thinkers, historians and social commentators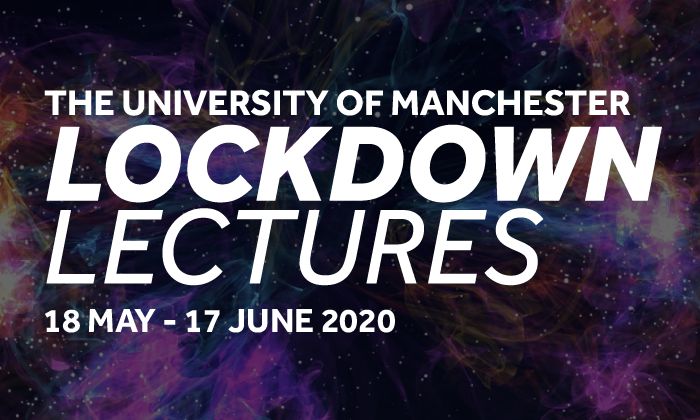 The Lockdown Lectures are part of a campaign to highlight our University's response to Covid-19. 
Professor Brian Cox was our first 'stellar' speaker, and in the weeks that followed, we have seen a diverse range of speakers talk on a variety of subjects, including our President and Vice-Chancellor Professor Nancy Rothwell, award-winning journalist Professor Gary Younge, Nobel Prize-winner Professor Sir Kostya Novoselov, and Professor of Radio Frequency Engineering Danielle George. 50th Anniversary Professor of Organisational Psychology and Health Cary Cooper and Professor of Nursing Nicky Cullum have completed the line-up so far.
The campaign is now half way through, and already we're seeing huge levels of engagement and audience reach. On social media, there have been 963,424 impressions, 245,155 video views and 39,648 engagements - and to date, 32,738 people have visited the Lockdown Lectures webpages (4 June).
Lectures this week included Professor of Sociology Claire Alexander, Professor Perdita Barran, whose research looks at identifying the biomarkers of Parkinson's disease through the sense of smell, and historian and broadcaster Professor David Olusoga, currently on our TV screens in the BBC2 series A House Through Time.
Coming up are Dan Davis, Professor of Immunology, Director of Research in the Manchester Collaborative Centre for Inflammation Research, and broadcaster and author Michael Wood, Professor of Public History in the School of Arts, Languages and Cultures.
The campaign is being overwhelmingly well received by the general public, students, staff and academics who are sharing the content with their networks and posting supportive comments through the #lockdownlectures hashtag.
You can watch the forthcoming lectures live, but if you've missed any you'd like to catch up on, visit our Lockdown Lectures website.