Saying 'I do' with a difference
26 May 2020
A couple whose wedding day was put on hold due to the Covid-19 lockdown have celebrated their special day with a 'DIY' ceremony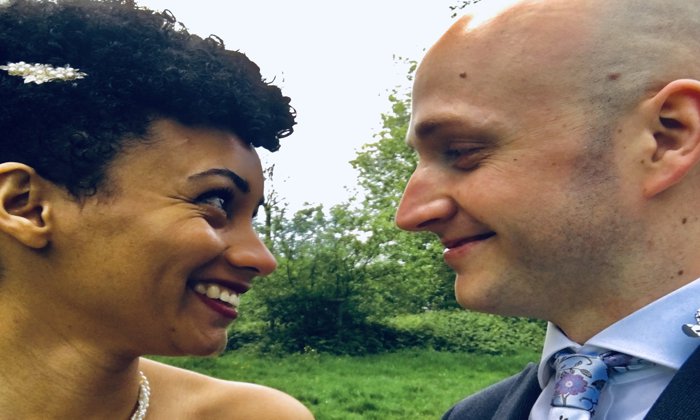 Pete Duncan, who works as an ITET Services Manager in the School of Environment, Education and Development, was due to marry his fiancee Beth Davis on Saturday, 16 May. Unable to celebrate their special day as planned, they decided to mark the occasion in their Manchester flat, transforming their lounge into a 'church'. 
After the happy couple exchanged rings on Saturday, musician Beth played Mendelssohn's Wedding March as she left the lounge arm-in-arm with her new 'husband', wearing a homemade dress made from a fitted bed sheet.
They then headed to a local park for photographs in front of bemused families and runners out for their daily exercise. Beth threw her bouquet into the air, and the couple showered themselves in confetti.
Family and friends, who dressed up for the occasion, virtually attended the reception and disco via social media.
The couple are looking forward to their 'official' wedding, which will now take place next year.
Pete said: "We were obviously very disappointed when we realised we needed to postpone the wedding, so we decided to mark the original date as best we could to make the day happy rather than sad.
"Now we're looking forward to the revised 'big day' in 2021, but we're not sure what to call our anniversary!"