"We have a can do spirit - there's nothing that defeats us"
31 Mar 2020
How our Halls catering team kept coming on campus, working around new national lockdown rules every day, to look after their "extended family" – our students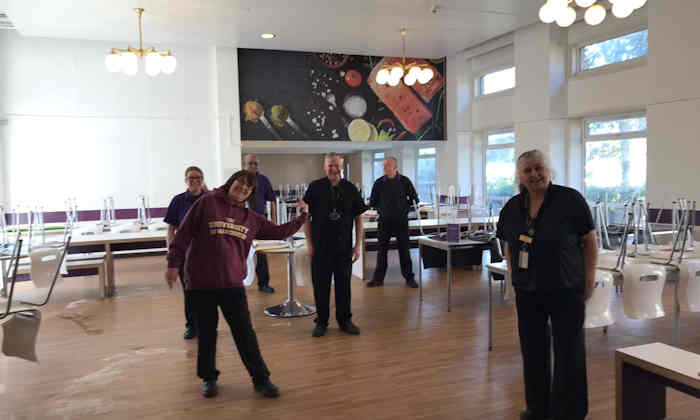 "We're great, thanks," Emma Stansfield, our Head of Residences Catering says, when asked how her team are coping with our daily-changing and ever-challenging circumstances.
"It's like a war effort. I have such a great team, they just dig in, and I am so proud of them.
"A lot of them really care about our students, it's like an extended family – there's a few colleagues who are like parent figures, who know who's there for breakfast or dinner or notice if someone isn't looking quite right. It's an extension of that, really."
That's something of an understatement – the team were changing their work practices from before our closure of all but essential services and kept changing them right up until they finally had to leave their posts, according to the national lockdown ruling.
First, Emma explains, our student bars were closed when Prime Minister asked people to stay away from pubs, the day before St Patrick's Day: "The students love it and we look after them better than external venues. The bar staff are mainly students and the University has honoured payments for the shifts they were on rota for."
Then, as further measures were brought in, the dining room staff shifted their working practices to allow them to keep feeding the students with the freshest possible food, rolling with every short-notice decision with good humour.
"The strike action meant we were feeding more people anyway, as students work in Halls more so need more meals, and they like to stay in the dining room longer, so we had 240 students at two sites, Fallowfield and Victoria Park," she explains.
"At first, we could offer food in the dining room, a takeaway service or a packed meal. We had them coming in one door and going out another, at a safe distance from each other, and our staff also worked at a safe distance.
"That was an important hurdle – keeping our students, staff, and the families our staff go home to, safe.
"Then when the dining room closed, we offered them a takeaway meal or packed meal. Finally, before we had to leave, we prepared and distributed breakfasts and dinners for each student to help them get through the following week."
The next step will be planning how to cater for our students when the summer semester starts.
Emma, who also pushed a trolley around Halls, offering food to students for their journey home on the day before the closure of most of our campus, adds: "I can't have them go hungry. If that was my daughter in another country, I would be so worried.
"This is something we are really, really good at, coping with change. We've been studied by AMBS researchers, who have been amazed at how we cope with change all the time. It's part of our job.
"We definitely have a can do spirit – there's nothing that defeats us."
We're sharing uplifting stories from all our colleagues, who are living our University's values during these difficult times. If you have an uplifting story to share, please get in touch at: