How our #StayInWorkOut online community keeps our people fit and well
31 Mar 2020
"Although we are physically apart, virtually we can come together and be active as one"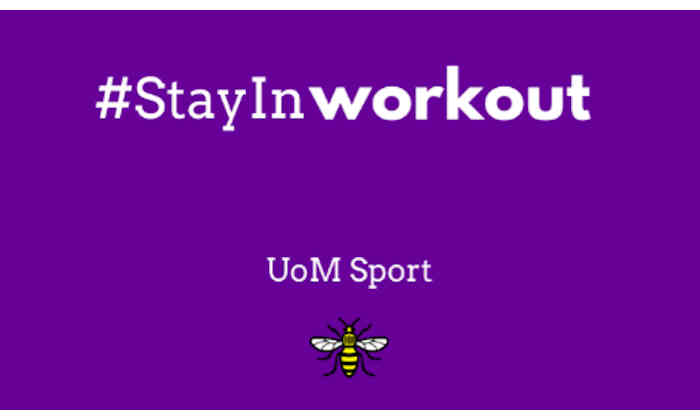 Two of the most difficult things about self isolating are loneliness and staying fit while being stuck in at home.
But our UoM Sport team have created an online community to combat both with their #StayInWorkOut campaign.
Using the team's existing social media channels, it offers a whole host of resources, videos, live workouts, challenges and health and wellbeing messages available every day.
"We want #StayInWorkOut to be a time where although we are physically apart, virtually we can come together and be active as one," explains Lisa Morton-Smith, UoM Sport's Sport Participation Officer.
"We want to engage with as many of you as possible – and we want to see pictures of the creative ways you are being active, selfies after taking part in workouts, and messages of encouragement to others."
Each day will have a theme to keep you coming back for more, such as:
#MotivationMonday!  & #MindfulnessMonday
#SweatySelfie
#UoMWellbeingWednesday 
#FeelGoodFriday. 
Join up
To join up, follow one or all of the channels:
We're sharing uplifting stories from all our colleagues, who are living our University's values during these difficult times. If you have an uplifting story to share, please get in touch at: