University launches #StayInWorkOut
30 Mar 2020
Join UoM Sport's online community for our staff, students and all our people – and stay fit and well with a host of resources and support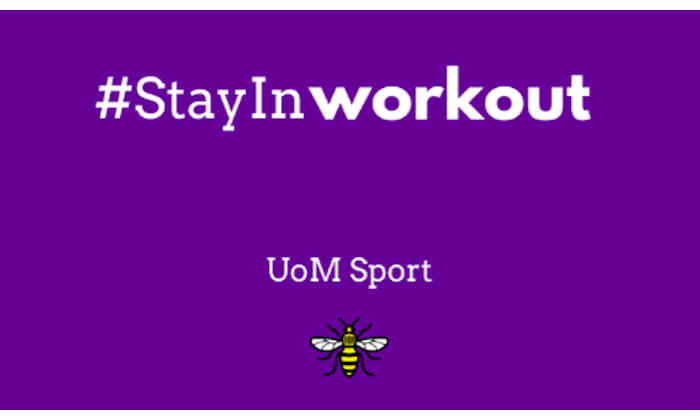 UoM Sport are creating an online community to help staff, students and our University's wider community look after their health and wellbeing by being active at home.
The #StayInWorkOut campaign officially launches today (Monday, 30 March) and is accessible across the UoM Sport social media channels.
If you don't already follow the UoM Sport channels below, join up and enjoy a whole host of resources, videos, live workouts, challenges and health and wellbeing messages available every day.
"We want #StayInWorkOut to be a time where although we are physically apart, virtually we can come together and be active as one," explains Lisa Morton-Smith, UoM Sport's Sport Participation Officer.
"We want to engage with as many of you as possible – and we want to see pictures of the creative ways you are being active, selfies after taking part in workouts, and messages of encouragement to others."
Each day will have a theme, including:
#MotivationMonday!
#MindfulnessMonday
#SweatySelfie
#UoMWellbeingWednesday
#FeelGoodFriday
Join up
To join up, follow one or all of the channels: