Black Voices Lunchtime Concert followed by a singing workshop
02 Mar 2020
1.10pm, Thursday 5 March at the Martin Harris Centre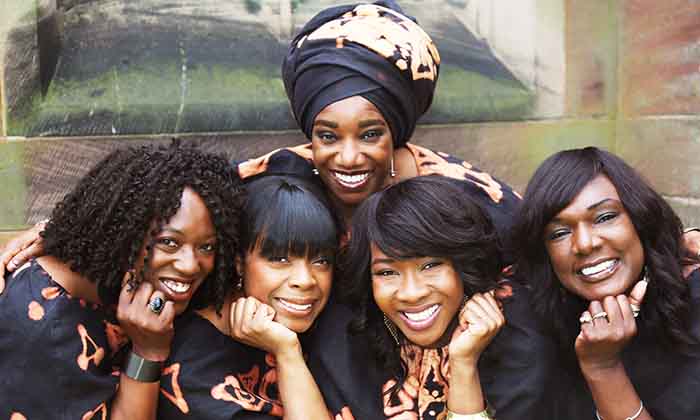 Join us this Thursday for a very special concert by the renowned a cappella group BLACK VOICES. The concert and the workshop that follows are part of our Musica Festival that is held in association with International Women's Day, providing a forum for celebrating women in music and exploring critical issues relating to gender in the arts and music industry. For a three-minute taster of what is in store, see https://www.youtube.com/watch?v=gIgddad1TME
BLACK VOICES IN CONCERT
Thursday 5 March, 1.10–2pm
Cosmo Rodewald Concert Hall (Martin Harris Centre)
Free admission: advance booking not required
A rare opportunity right on your doorstep to experience the exceptional sounds of this all-female a cappella collective who are globally celebrated for their stunning voices and the unique form of vocal music they bring to the world stage. 
SINGING WORKSHOP WITH BLACK VOICES
Thursday 5 March, 2.30–4pm
Cosmo Rodewald Concert Hall (Martin Harris Centre)
By donation (pay-as-you-feel): advance booking not required
We continue our celebration of women in music with an afternoon of songs from black oral music traditions. Explore harmony singing in diverse styles – from traditional African, spirituals or gospel to jazz, pop or folk. Singers of all genders and abilities welcome!
Both of these events are open to the public so please feel free to share with others who may be interested. We hope you are able to join us!