Universities Minister celebrates Manchester's materials reputation
23 Jan 2020
Advanced Materials were at the centre of the agenda for the Minister for Universities, Science, Research and Innovation, Chris Skidmore, last week during a tour of our campus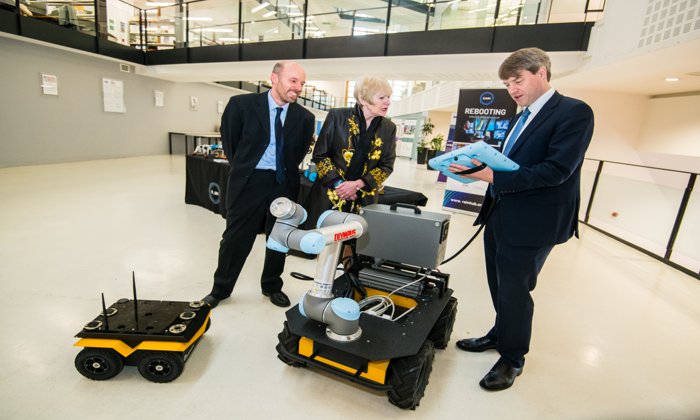 The Minister visited the University to discover more about the soon-to-open Henry Royce Institute, hear about the most recent graphene developments, discover more about how the AI and robotics are helping to solve challenges faced by the nuclear industry and finally tour the north campus and future home of IDManchester.
During the tour, the Minister, who was accompanied by our President and Vice-Chancellor, Professor Dame Nancy Rothwell, met with leading academics and discussed breakthrough developments since he last visited the campus just over a year ago.
Professor Phil Withers greeted the Minister to discuss and take in the the new soon-to-open £150m Royce building, a new national hub for advanced materials research and commercialisation.
During the visit Chris Skidmore said: "The University of Manchester is doing amazing research in areas like x-ray imaging systems and the super material graphene. Outstanding university research like this will help build our reputation as a global science superpower while growing our economy, and it was a privilege to witness it first-hand."
The delegation then visited state-of-the-art research facilities of the National Graphene Institute (NGI) with Professor Sir Andre Geim, who received a Nobel Prize for his work on initially isolating the two-dimensional (2D) material in 2004 and continues to explore and develop the untapped potential of related 2D materials in Manchester.
The NGI, along the with Graphene Engineering Innovation Centre (GEIC) forms the heart of Graphene City, an entire city-centre based end-to-end ecosystem to research, develop and commercialise unique graphene applications in tandem with industry.
A tour of the Manchester Institute of Biotechnology (MIB) was also on the agenda to visit the labs at the heart of the pioneering research led by Professor Nigel Scrutton and team which was recently honoured with the Queen's Anniversary Prize. The MIB was singled out as a beacon of excellence for being at the forefront of designing a sustainable future for the UK and communities across the world by developing disruptive bio-based technologies.
The visit concluded with the Minister heading to the RAIN project which uses robotic and AI technologies to solve challenges faced by the nuclear industry. It is led by Barry Lennox, Professor of Applied Control in the School of Electrical and Electronic Engineering,
Advanced materials is one of our research beacons - examples of pioneering discoveries, interdisciplinary collaboration and cross-sector partnerships that are tackling some of the biggest questions facing the planet. #ResearchBeacons