An evening with Michelin-starred chef Tom Kerridge
03 Jan 2020
In conjunction with Blackwell's Manchester, Tom Kerridge will be talking to Emily Heward, the MEN's Food, Drink and Events Editor, at Manchester Central Library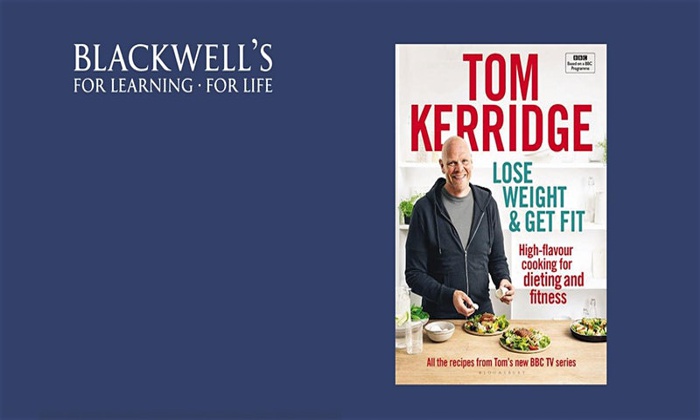 Start the new year in great shape on Friday, 10 January and join Blackwell's Manchester for an evening with Michelin-starred chef, bestselling author and BBC presenter Tom Kerridge.
Celebrating the launch of his latest cookbook Lose Weight and Get Fit, Tom will be chatting to Emily Heward about his life and career and how he managed to get fit and lose weight without compromising in the kitchen. Tom will also be talking about the recent opening of his new restaurant The Bull and Bear in the Stock Exchange Hotel.
Tickets cost £5, or there is the option to buy a ticket with a copy of the book for £22.
Doors open 6.30pm for a 7pm start. Tom and Emily will be talking for approx. 50 minutes before an audience Q&A and book signing.
About the book
Following on from the No.1 bestseller Lose Weight for Good, top chef Tom Kerridge shows you how to shed the pounds and kick-start a more active lifestyle with all of the maximum-taste, lower-calorie recipes from his upcoming BBC2 TV series.
Having lost more than 12 stone in the last five years, Tom knows from experience how important it is to motivate yourself to start dieting and exercising – and to stay on track.
"When I first set out to lose weight, I concentrated mainly on what I was eating," he says. "But now I know that it's to do with fitness as well: the two working together is the winning formula for getting maximum results and maintaining those results long term. And the number one rule when it comes to eating well on a diet is to keep food interesting! Every recipe in this book not only sustains you through the day, but provides fantastic tastes and textures with each mouthful."
About the author
Tom Kerridge worked as a chef in restaurants across Britain before deciding to set out on his own and take over a rundown pub in the quiet Buckinghamshire town of Marlow. He opened The Hand & Flowers with his wife Beth in 2005, and it went on to become the first (and only) pub in the world to acquire two Michelin stars. In 2014 he opened a second pub in Marlow, The Coach, which was followed by The Butcher's Tap. Most recently, he and his core team launched Kerridge's Bar & Grill, which is housed in Corinthia London. His previous books include the bestselling Proper Pub Food, Tom Kerridge's Best Ever Dishes, Tom's Table, Tom Kerridge's Dopamine Diet, Lose Weight for Good and Tom Kerridge's Fresh Start.
Please note this event is being held at Manchester Central Library and not the bookshop.