Staff only event – Monday, 3 February 2020
25 Nov 2019
See two new facilities funded by Research England at our Alliance Manchester Business School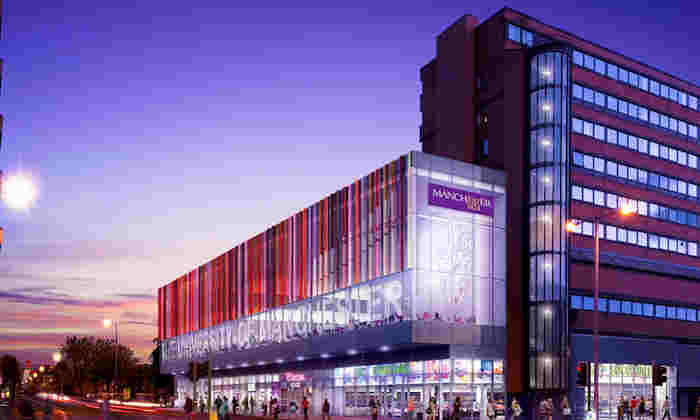 As part of the recent redevelopment of Alliance Manchester Business School we have constructed two new facilities funded by Research England – a Data Visualisation Observatory and a Behavioural Research Laboratory.
Join us at the opening event exclusively for University of Manchester colleagues on Monday, 3 February. Sessions will take place 3pm. You'll hear more about our new facilities and get to try out the new technologies first hand.
Data Visualisation Observatory
Our new 3D, large-scale visualisation facility (pictured above) is now available to power data-driven and observational research, engagement and teaching activities at The University of Manchester.
It can visualise data and immersive environments via 72 full HD screens delivering 151MP resolution (75MP in 3D), and will help to support your research and develop new insights into data and models.
Join Nikolay Mehandjiev, Professor of Enterprise Information Systems, as he showcases this facility and talks to you about ways it could work for you and your research, teaching and engagement activities.
Behavioural Research Laboratory
Our new laboratory provides a dedicated space for conducting experiments to study human behaviour across a range of applications concerning business and management. From organisational and consumer behaviour to entrepreneurship, behavioural economics, behavioural finance and strategy – the lab is designed to support state-of-the-art research.
The lab will contain 45 networked computers in cubicles designed to allow participants to undertake individual tasks or take part in interactive multiplayer games. It will also contain specialist equipment for eye-tracking and measuring physiological reactions to understand how people, think, feel and act.
Dr Mark Healey, Senior Lecturer in Strategic Management, and the lab manager will be available on the day to showcase the lab and talk to you about applications to your field.
Book now
To book, visit: