New University history displays unveiled
08 Nov 2019
The Old Quadrangle displays explain the development of some of our most important buildings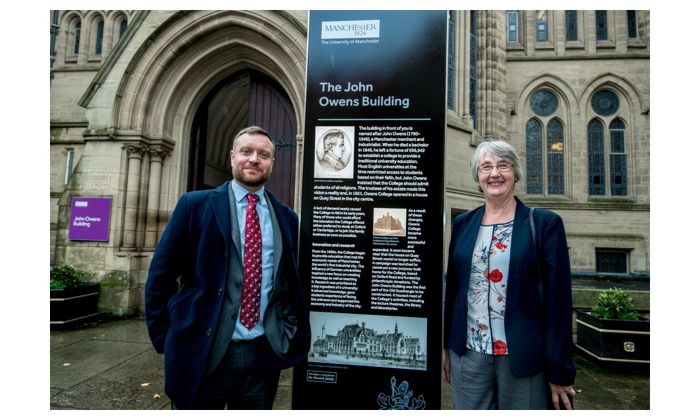 Four new University history displays were recently unveiled in the Old Quadrangle. They detail the history of the University, key individuals from our past – including John Owens, Richard Copley Christie and Charles Beyer – and explain the development of some of our most important buildings.  There is one displayed in the centre of the Quad, and one outside each of the entrances to the Beyer, Christie and John Owens buildings. These are the first in a series of University history displays with more set to appear in the coming months on Coupland Street and across Gilbert Square. 
The displays were kindly funded by the Beswick family, who have a long association with the University. Dr F.B. 'Bill' Beswick studied medicine at the University between 1943 and 1948, and went on to become Executive Dean of the Medical School and Bursar of the University. His wife Charlotte created and curated the Medical School Museum which has developed in to the Museum of Medicine and Health, part of the University Collections. The displays were unveiled by Jenny Jeffree, Bill and Charlotte's daughter, an alumna of the University. 
Dr James Hopkins, University Historian and Head of Heritage, said: "As a University, our past is crucial to our present and future – it is the bedrock of our reputation, it informs our values and identity and challenges us to build on the pioneering legacy of those that went before us."
Rob Summers, Head of Development, said: "It is particularly fitting that these displays bear the Beswick name, as theirs is a story of the important place that universities like ours hold in society and the transformational power they can have on individuals and their wider family. They will enable others to be inspired by the power of knowledge and discovery and the life changing impact it can have." 
You can find out more about the University's past on a free University heritage tour, which runs on a Wednesday and Saturday.