Staff benefits and wellbeing update
31 Oct 2019
The annual staff wellbeing fair is coming soon, an update on November's Men's Health Month and the Prevent Breast Cancer fundraiser and the latest prize draw.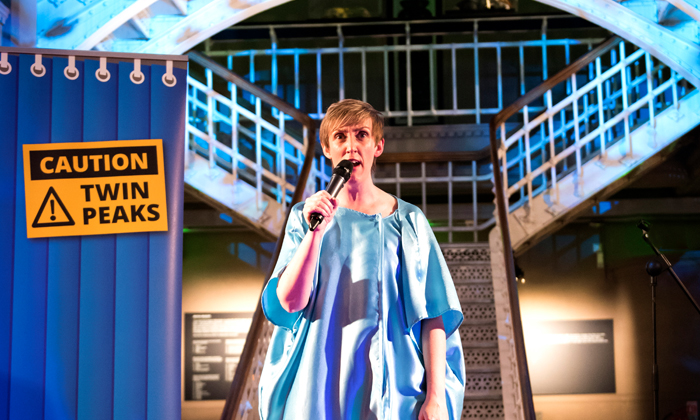 On Friday the 25th October Mandy Tootill performed her Twin Peaks show at Manchester Museum in aid of Prevent Breast Cancer.  The show was a complete sell out and Mandy took the audience through her own personal journey from finding a breast lump, to surgery, through chemo and beyond, leaving them laughing and crying throughout. The event raised over £1,300 for Prevent Breast Cancer who help fund research including several leading academics at the University.
Visit the staff wellbeing calendar for all the latest and ongoing sport, health and wellbeing events. Upcoming there is:
November – Men's Health Month with fantastic options including:
Grow a Mo for Movember
Men's Health Checks          
Love your Balls - Testicular cancer talk
Prostate Cancer UK - Drop-in for advice
On campus sport facilities
Be Active health and wellbeing programme
Lunchtime Wholeness Programme at St Peter's
Run commute and free breakfast
Sign up for the Big White Wall
All details can be found on the Men's Health Month page.
Staff Wellbeing Fair - Get your tickets now!
This year's Staff Wellbeing Fair will take place in the Whitworth Hall on Thursday 28th November. Reserve your ticket now via Eventbrite. More details next week on exhibitors and how you can donate a toy on the day to Wood Street Mission and food for Emmeline's Pantry foodbank!!
Home
Get Living are offering , as of the 1st November, that University staff that newly rent a home from them will live completely rent free for the rest of the year as long as the home is reserved and moved in to prior to December 31st. Whatever date you choose to move in on, you won't have to pay any rent until 1st January 2020. This offer is eligible for our Olympic Homes in East Village and their new homes in Manchester at New Maker Yards.
Prize draw
This week we are offering a prize draw to win one of two books "Be Your Own Wellbeing Coach" by Gemma Dale. To be in with a chance of winning a book, answer this question:
Q. What is your favourite wellbeing tip?
Just email wellbeing@manchester.ac.uk before midnight on 10th November, with a wellbeing tip that you would like to share with other colleagues (anonymously). Mark the email subject Wellbeing Tip. The winner will be randomly drawn on Monday 11th November.