Celebrating our Foundation Day 2019
10 Oct 2019
"This year's four honorary graduates exemplify the University's commitment to improving lives through health and economic prosperity"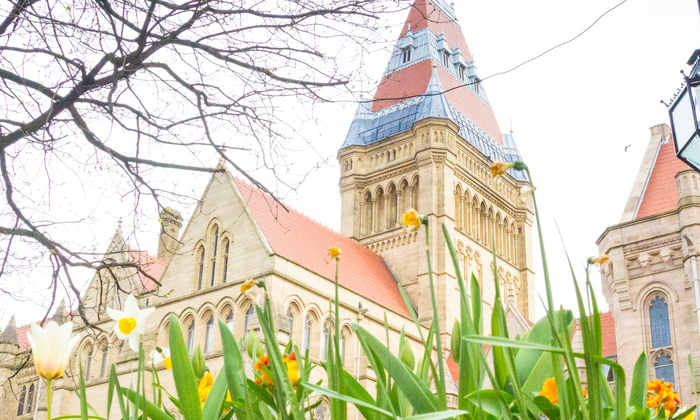 A footballer, entrepreneur, economist and nursing professor received honorary degrees at yesterday's Foundation Day celebrations (9 October). Entrepreneur and investor Sherry Coutu delivered our most prestigious annual Foundation Day lecture. She was then awarded an honorary doctorate, alongside Professor Dame Elizabeth Anionwu, Vincent Kompany, and Lord Jim O'Neill.

Mrs Coutu's lecture was on the future of work, and how recent changes in our economy and society are a sign of the role universities, governments and businesses must play in helping citizens adjust to secure future prosperity. She has previously acted as an investor in more than 60 companies, including Linkedin, Zoopla, and Lovefilm, as well as founding Workfinder, the Scaleup Institute, and Founders4Schools.

The speech was the centrepiece of the Foundation Day, which our University holds each year to mark the bringing together of the Victoria University of Manchester and the University of Manchester Institute of Science and Technology (UMIST) in 2004.

Professor Dame Nancy Rothwell, President and Vice-Chancellor, said: "This year's four honorary graduates exemplify the University's commitment to improving lives through health and economic prosperity..

"Foundation Day marks an annual milestone for the University, highlighting our identity as a global institution with its heart in the city of Manchester. It gives us great pleasure to award these honorary doctorates to such exceptional individuals on this special day."
This year honorary doctorates were awarded to the following:

Sherry Coutu is a serial entrepreneur and angel investor who serves on the boards of companies, charities and government. She has founded several of her own companies, and serves as a non-executive member of several more.
In November 2014, Sherry authored the "Scale-Up Report" which urged the UK government to support scaleups and not only start-ups, following which the Scaleup Institute was created.
Philanthropically, Sherry supports The Prince's Trust, The Francis Crick Institute and Founders4Schools, a charity to improve the employability of young people.

After graduating with a Diploma in Nursing from the University in 1978, Professor Dame Elizabeth Anionwu has held senior executive roles at various health organisations. She is Emeritus Professor of Nursing at the University of West London, and was appointed as the first ever UK sickle cell/thalassaemia nurse counsellor, and was Head of the Brent Sickle Cell and Thalassaemia Information and Screening Centre from 1979 to 1990.

Elizabeth established and was Head of the Mary Seacole Centre for Nursing Practice, again at University of West London. On her retirement, Elizabeth was honoured with the award of Emeritus Professor of Nursing.

Vincent Kompany is a Belgian professional footballer and manager who played centre back for Manchester City Football Club for eleven years, and captained the side from 2011 to 2019. In the 2011-12 season, Vincent led his club to win the Premier League, their first league title in 44 years.

In July this year, he became the player-manager at RSC Anderlecht of the Belgian First Division, the club where he started his professional playing career aged 17.

Vincent is an official FIFA ambassador for the registered charity SOS Children. Of Congolese heritage, he has invested and engaged in projects which aim to provide an education and safe accommodation for children living in poverty.

Lord Jim O'Neill became Chair of Chatham House in July 2018. His previous roles include, joint head of research at Goldman Sachs (1995–2000), its chief economist (2001–10) and chairman of its asset management division (2010–13); creator of the acronym BRIC; commercial secretary to the Treasury (2015-16); chair of the City Growth Commission (2014); chair of the Review on Antimicrobial Resistance [AMR] (2014-16). He is a board member and one of the founding trustees of educational charity SHINE.

Lord O'Neill was created a life peer in 2015, and serves as a crossbench member of the House of Lords.