Policy@Manchester showcase expertise at Party conferences
09 Oct 2019
Over the last two weeks Policy@Manchester have run a programme of events, at both the Labour Conference in Brighton and the Conservative Conference here in Manchester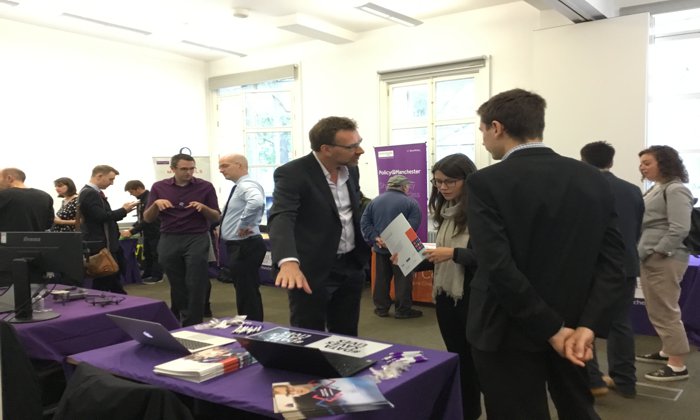 The team ran ten events over two weeks with panels on climate change, immigration, gender, UK2070, and mental health involving our academics, MPs, charities and think tanks.  With over 400 people visiting our events and more than 100 contacts made over the two conferences, it was a truly busy but productive fortnight for the Policy team.
The programme involved all three faculties, partnering with Dr Sarah Mander, Dr Carly McLachlan, Dr Chris Jones, Dr Michael Wigglesworth and Professors Neil Humphreys, Francesca Gains, Rob Ford, Clare Mills, Sandra Bucci and Stephen Hutchings.    The team and guests were able to engage with stakeholders both at the panels and by attending fringe and secure events within conference, promoting the leading research at the University.
A highlight was the drop-in research showcase where delegates met academics to find out answers to everyday problems such as sustainable farming, air quality, allergies, drug prescribing, climate change, microplastic pollution, offshore wind energy and other areas of research.  
If you would like to find out more, please contact policy@manchester.ac.uk.