Boobee Bus on campus!
09 Oct 2019
The BooBee Bus has arrived!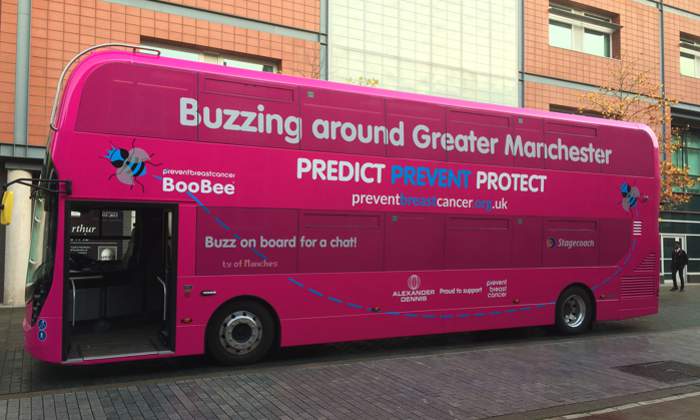 As part of BreastFest Manchester, Prevent Breast Cancer have brought their fabulous pink Boobee bus on campus today (Wednesday 9th October). Drop in between 10am – 4.30pm on Bridgeford Street.
On board the bus are their very own "BooBees" who will be distributing their "Bee Aware" information and encouraging women to come on board to find out more about breast health.  Also on board will be a specialist breast cancer nurse to give advice and to answer any specific concerns. Download and share the poster. They are also selling BeeYou merchandise including body creams, body butters and the Boobee pin badge.
Pop down during the day and get breast aware or just to show your support!
Other Breast Cancer Awareness Month events!
Twin Peaks
The Staff Wellbeing Team in partnership with Manchester Museum and Prevent Breast Cancer proudly presents Mandy Tootill - Twin Peaks.
Mandy's show Twin Peaks is an honest and fearless account of being diagnosed with breast cancer at the age of 30. How does Mandy cope when faced with her own mortality? In the only way she can, with sheer determination and wit.....after all laughter is the breast medicine!
Mandy started her comedy career in 2014 and was nominated for Best Comedy Manchester Fringe and Best Comedy Performer Buxton Fringe 2018 and recently returned from the Edinburgh Fringe where people compared her to Victoria Wood! On 5th October Mandy performed excerpts from her Twin Peaks show to 700 people at Manchester Central!
The show will take place on Friday 25th October at 7.30pm and tickets are available via this Eventbrite link. All proceeds go to Prevent Breast Cancer.
Download the poster here and read more about the show including reviews at: www.mandytootillcomedy/twin-peaks
Breast screening advice
During October there will also be a lunctime drop in session with the regional lead for breast cancer screening. Find out more in our UoM's Women's Health Month
Further information
Signs and symptoms of breast cancer