Still using Windows 7? You need to upgrade to Windows 10
01 Oct 2019
Windows 10 is the latest version of the Windows operating system from Microsoft
You can easily tell whether you're using Windows 7 or Windows 10 by looking at the Windows icon in the taskbar, usually at the bottom left, as per the image above.
Currently, many University computers use Windows 7, which will no longer be supported from early 2020. 
New University staff computers are being supplied with Windows 10 (excluding Apple Macs and computers solely using Linux), but over the next few months, we will need to ensure that computers using Windows 7 are upgraded.
These upgrades are mandatory, as in the future, computers running out of date operating systems may be disconnected from the University network.
Also, colleagues using Windows 7 on a University managed computer will need to upgrade to Windows 10 before they can use Office 365 .
Using Windows 10, staff can install more than 320 applications on their own PC using the Software Centre, without needing to contact the IT Support Centre.
IT Services' End User Computing (EUC) team have started to email colleagues who are using Windows 7 to schedule an upgrade. However, colleagues are welcome to request an upgrade themselves. You can do this by filling in the Windows 10 request formand a member of staff from the IT Services End User Computing (EUC) team will be in touch:
If you see the main support portal screen as below, you will need to type Windows 10 upgrade request in the search box.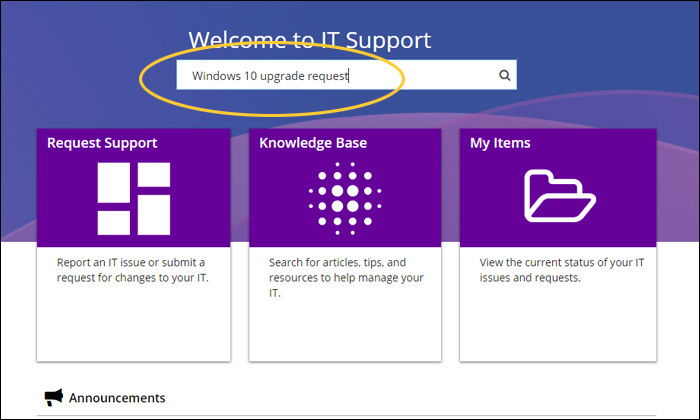 If your computer is not suitable for upgrading to Windows 10, an IT Services colleague will advise you on how to proceed.