University celebrates start of Black History Month 2019
01 Oct 2019
President and Vice-Chancellor Nancy Rothwell and senior leaders launch campaign to recognise and celebrate the achievement of Black people in the UK and across the world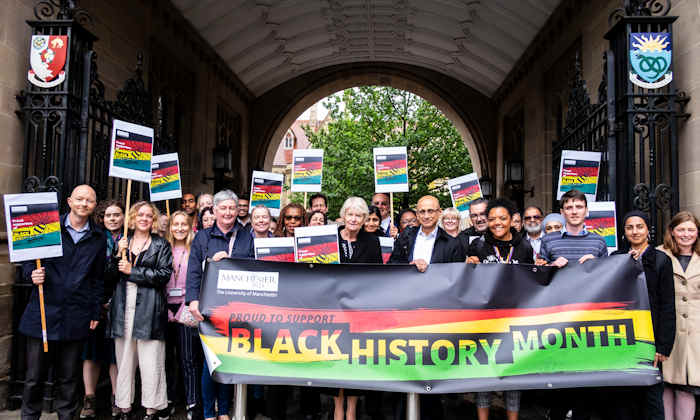 Each year, the month of October is celebrated as Black History Month (BHM) in the UK, to recognise and celebrate the achievement of Black peoples in the UK and across the world.
This year, our President and Vice Chancellor Professor Nancy Rothwell and other senior University Leadership Team members, staff and students gathered under the Whitworth arch to mark the start of BHM 2019 and the University's support of this celebration. 
Our University's flagship BHM 2019 event is "Brilliant and Black", in which our Professor of Public History, David Olusoga OBE, will deliver a keynote presentation considering the joint histories and shared pasts between Britain and people of African descent.
The celebration will be accompanied by Manchester-based musicians, Jali and Don Hartley, and there will be opportunities for networking and hearing more about relevant work and initiatives at the University.
Berrisford Edwards, Co-Chair of the BAME Staff Network, commented: "Combined with the funding of the University's flagship BHM 2019 event "Brilliant and Black", this is a powerful show of support by the University's leadership team, publicly demonstrating the University's continued support for and leading on the advancement of Equality, Diversity and Inclusion in HE."
Register
To register for a place, visit: