Raise funds for the Pankhurst Trust with afternoon tea at Chancellors Hotel
27 Aug 2019
A relaxed afternoon tea on Friday, 20 September plus hear from guest speakers as part of Global Week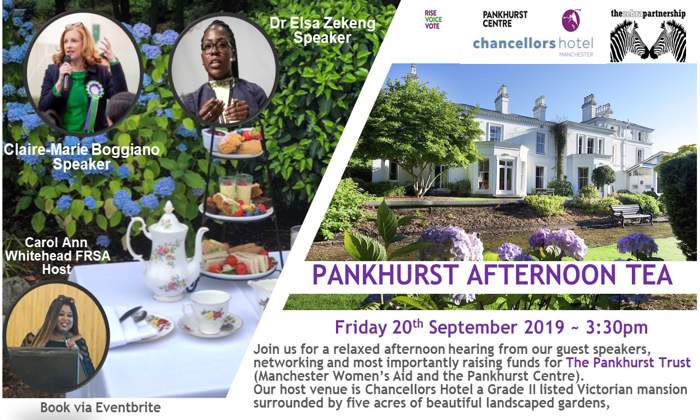 Each September while world leaders gather at the high-level opening of the United Nations General Assembly, thousands of organisations from civil society, youth groups, national and local governments, institutions, businesses and individuals all across the world take part in the Global Week to #Act4SDGs.
The Zebra Partnership and The People's Hub hosted by Chancellors Hotel will join the international mobilisation around the fourth anniversary of the Sustainable Development Goals (SDGs).
This will help amplify, connect and map SDG actions and send a strong message that people and organisations everywhere are helping to make the SDGs a reality and that they need leaders to stand behind their commitment to the goals.
To mark this occasion, treat yourself to a vintage afternoon tea in aid of The Pankhurst Trust, the home of gender equality.
Held at Chancellors Hotel, your host will be Carol Ann Whitehead who has reported from the UN SDG Global Festival of Action in Bonn and Fiona Lockyer, General Manager for Chancellors Hotel. 
It'll be a relaxed afternoon hearing from guest speakers, Key Connector and Change Management Expert Claire-Marie Boggiano and Pitch at the Palace alumna Dr Elsa Zekeng. There will be opportunities for networking and most importantly raising funds for The Pankhurst Trust (Manchester Women's Aid and the Pankhurst Centre).
Sashes and rosettes will be made available to be worn at the event.
The dedicated Pankhurst team work together to ensure the powerful story of the women who won the vote continues to inspire us all to challenge gender inequality, and to ensure that those suffering from domestic violence and abuse get the confidential help they need.
Itinerary
3:30pm - Manchester Three Rivers Gin cocktail reception in the conservatory
(alternatives for non-gin drinkers)
4pm – sit down in Carriages Restaurant
Welcome address and raffle sales by Carol Ann Whitehead, The Zebra Partnership
Welcome to Chancellors – Fiona Lockyer, General Manager, Chancellors Hotel
4:15 pm Afternoon Tea service
Afternoon Tea on vintage crockery with a Victorian theme, history scroll referencing the Pankhurst at Chancellors.
Motivational speech by
Dr Elsa Zekeng PhD 
Claire-Marie Boggiano
Followed by raffle draw and post speech networking at 6pm.
Guests invited to retire to the terrace / bar.
Men are welcome to attend the event, Richard Pankhurst and Charles Rigby were the husbands of key suffragettes and like many men supported womens rights. 
When booking, please advise Chancellors of any dietary requirements/allergies.