Your mission – learn lots and have fun at bluedot…
31 Jul 2019
A public engagement story from our UNESCO World Heritage site Jodrell Bank Observatory – tell us yours or get involved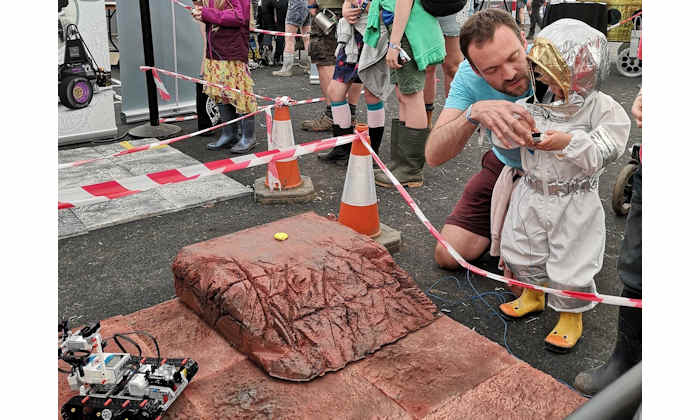 The rain tried its best but it didn't put festival-goers off bluedot when it returned to Jodrell Bank for its fourth annual outing with a new capacity of 21,000 – and sold out.
Our multi-award winning festival of discovery featured 14 stages, 168 music acts, 82 family activities, 78 science speakers, 15 film screenings and one 60-piece orchestra!
It also hosted 55 exhibitors, including 21 University schools, departments and research teams, while BBC Breakfast, BBC 6music and BBC sounds all reported live from the site.
And we launched bluedot connect, where festival-goers could check in at stages and stalls to create their own Mission Log. The Log included links to more information such as research papers and further engagement resources.
bluedot 2019 is a great example of our public engagement – how the activity and benefits of higher education and research can be shared with the public, involving interaction and listening, with the goal of generating mutual benefit.
The Jodrell Bank team took their mission seriously – one staff member clocked up 36,000 steps in a single day! The results speak for themselves.
New Order, whose magnificent return beneath the mighty Lovell Telescope closed the festival, tweeted: "Thank you @bluedotfestival, you are out of this world!"
Associate Director of the Jodrell Bank Centre for Astrophysics, Professor of Astrophysics Tim O'Brien said: "Rain cannot stop us, mud cannot stop us. Put on a weekend such as this with such a unique blend of entertainment, and there is no way you cannot succeed. Same time next year, right?"
2020 tickets are on sale already…visit Discover the bluedot
Since leading one of the first UK Beacons for Public Engagement, our University has gone on to be awarded a Gold Watermark from the National Co-ordinating Centre for Public Engagement and we are celebrating that journey. 
Now we're taking up the challenge of playing a leading role as a civic university, as well as addressing key national and international agendas, such as the United Nations Sustainable Development Goals. 
Our vision includes creating a more permissive engagement culture; developing more inclusive practices; co-creating innovative approaches and working in partnership with more diverse audiences to help realise our University's strategy for social responsibility, research and discovery, and teaching and learning. You too can share, inspire and involve our community partners and public audiences in Manchester, across the country and around the globe. 
For this we need our staff and students to get involved – tell us your engagement stories. 
For more information, visit: 
·         University of Manchester Public Engagement