Colleagues clean up Crosby Beach
30 Jul 2019
The CfMR Green Impact Team uncovered 17 bags of rubbish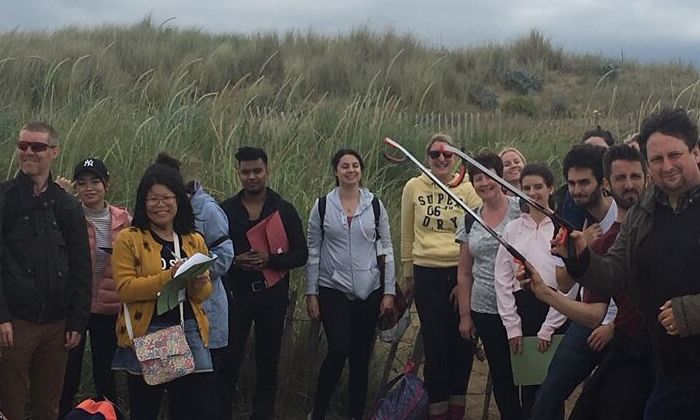 As part of their annual departmental away day, the Centre for Musculoskeletal Research (CfMR) Green Impact Team from the Division of Musculoskeletal and Dermatological Sciences organised a beach clean at Crosby beach. 
To support the clean-up, the team used funding they were awarded from 10,000 Actions, our environmental initiative which encourages staff to make changes and take actions which can ultimately make an impact in tackling the world's greatest challenges.
The funds were used to buy four sustainable clean-up kits from Helping Hand Environmental - an enterprise central to the beach clean movement - and provided more than enough equipment for the 47 team members (which included 4 dogs and one child). 
Spending 1.5 hours cleaning approximately 200m of the beach, the team filled 17 bags with rubbish. This works out at an average of 916.5 pieces of litter per 100m, which is higher than the UK average (taken in 2018) of 601 pieces of litter per 100m.
Dr Katie Druce, Health Intelligence Analyst (Research Associate) says: "What shocked us most is just how much we found, given that when we arrived at the beach it all looked so clean. The reality is that often these pieces of litter are so small that you would really have to look for them. But the impact of this litter is huge and often deadly for the sea life and other wildlife around our beaches."
The team plan to use their litter picking kits for future, but are offering them to other teams to encourage them to put them to good use.