China's Science and Technology Minister visits our University
18 Jul 2019
China's Minister of Science and Technology, Mr Wang Zhigang, saw the full scope of our advanced materials research capabilities and commercial opportunities during his visit to campus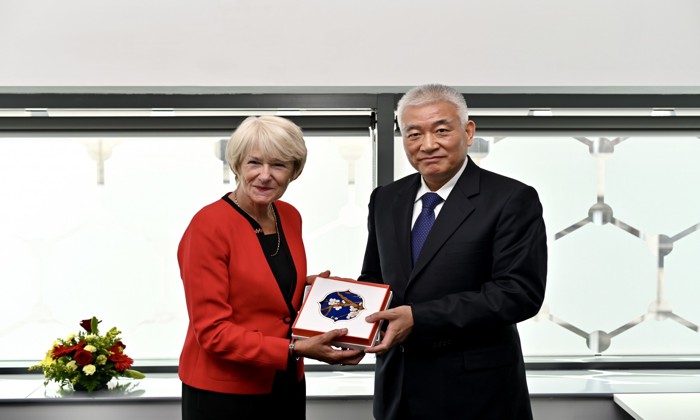 Accompanied by colleagues from the Chinese Embassy in the UK, Mr Zhigang was welcomed by President and Vice-Chancellor, Professor Dame Nancy Rothwell.
Mr Zhigang was also introduced to Professor Colette Fagan, Vice-President for Research and Nobel-prize winning physicist, Professor Sir Andre Geim, who was part of the scientific team to originally identify graphene in 2004.
On arriving to the campus Mr Zhigang and his delegation visited the National Graphene Institute (NGI), Manchester Institute of Biotechnology (MIB) and the Graphene Engineering Innovation Centre (GEIC).
During that time he met James Baker, the current CEO of Graphene@Manchester, and emphasised the importance of adopting a long-term strategic view for scientific cooperation between Manchester and China.
The Minister also acknowledged how the University and some Chinese institutions are working collaboratively to find solutions to global challenges, such as ageing populations.
After visiting the campus, the delegation took in one of the University's cultural assets, Jodrell Bank Observatory, which has recently joined the Great Barrier Reef, Taj Mahal, Grand Canyon National Park and Stonehenge on the prestigious UNESCO World Heritage List.