Director of Finance to retire in September 2019
09 Jul 2019
Stephen Dauncey will retire after three years as Director of Finance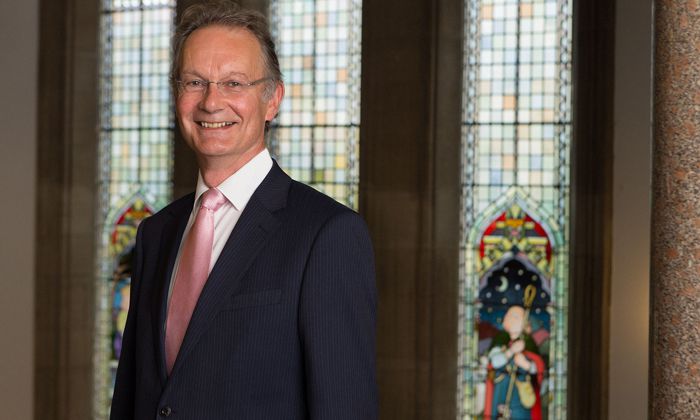 The University has regretfully accepted the resignation of Director of Finance Steve Dauncey who, after a recent health scare, has brought forward his retirement date to September of this year.
Steve continues to enjoy good health thankfully, but this recent experience meant he wanted to rethink his priorities, which has led him to the decision that now is the time to take advantage of other opportunities.
Steve said: "I have thoroughly enjoyed my time at the University - working with the Board, Senior Leadership Team (SLT) and the Professional Services Leadership Team (PSLT); and as Director of Finance.  It has been the best time of my working career. This is because of the wonderful achievements delivered across teaching and research; and the support I have been given by all colleagues. It was therefore a very difficult, but sensible, decision to retire slightly earlier than planned."
Steve's association with the University goes back nearly a decade from his initial role as a member of our Board of Governors, which he relinquished in March 2016, when he joined the University full-time as Finance Director.
Formerly Chief Finance Officer with Highways England, Steve brought a wealth of experience to the role and optimised the influence that the finance and procurement teams have on the delivery of the University's mission. He has managed University resources very effectively in a period of significant change for us and the sector, where transformational investments are reshaping both the campus and our core activities - and how these are delivered.
President and Vice-Chancellor, Nancy Rothwell said: "My senior colleagues and I will miss Steve enormously as a colleague. He has made a huge impact as a leader in Finance through, amongst many things, his support in managing the investments and finance for our capital developments and through his leadership of a strong finance function in the University.
"He has made his mark in the sector as an active member of the British Universities Finance Directors Group and in the city as Chair of the Manchester Camerata.
"We wish him all the best for his retirement and thank him for all he has done for the University."
Patrick Hackett, Registrar, Secretary and Chief Operating Officer, added: "I have greatly enjoyed working with Steve this past year, both for his expertise and for his warm sense of humour, which makes him such a pleasure to work with.  I and PSLT colleagues join Nancy and SLT in wishing him well for the future in his well- deserved retirement."
An external search will commence for Steve's successor in the autumn and interim arrangements will be put in place as necessary.