Manchester team wins global Minus CO2 Challenge at EAGE 2019
07 Jun 2019
A team of Manchester students from the School of Earth and Environmental Sciences (SEES) won the final of the global Minus CO2 Challenge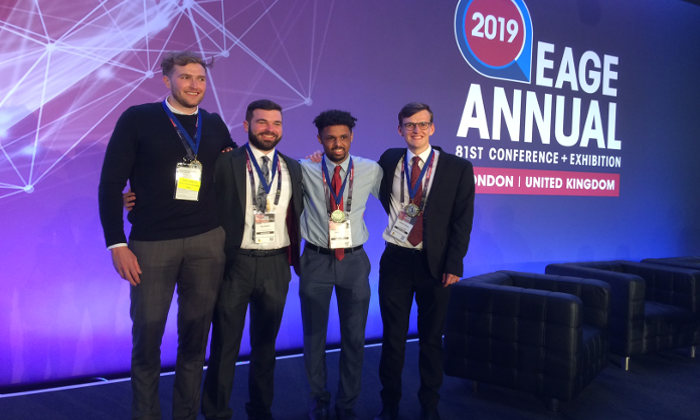 A team of Manchester students from the School of Earth and Environmental Sciences (SEES) won the final of the global Minus CO2 Challenge at the European Association of Geoscientists and Engineers (EAGE) Annual Conference and Exhibition in London on Monday, 3 June 2019 (https://eage.eventsair.com/81st-eage-annual-conference-and-exhibtion/). The conference had a substantial focus on the Energy Transition and need for lower carbon emissions from oil and gas operations and fuel consumption further down stream.
The final between teams from Manchester, Rio and Dalhousie, who were selected from a shortlist of 10 teams from around the world. The final 3 teams proposed very different, yet compelling and innovative approaches to solving the challenge and all were considered as winners in parts of the challenge with the Manchester team having the edge and overall vision to come out on top.
The Manchester team, Chris Lloyd (PhD), Ross McTier (MSc), Daniel Odjo (MEng) and Dominic Skinner (MSc), analysed subsurface data from the Norne field offshore Norway, courtesy of #Equinor. They devised an economically viable, CO2 neutral, field development plan taking into account both upstream and downstream CO2 emissions. They simulated the injection of CO2 using state of the art software courtesy of Schlumberger to demonstrate the utility of CO2 injection for enhanced oil recovery and for sequestration purposes.
All the final teams were invited to the Equinor UK offices in Aberdeen to present their work today. The Manchester team was further invited to present their work at the EAGE Near Surface Geoscience Conference in The Hague in September 2019 (https://eage.eventsair.com/near-surface-geoscience-2019/).
The win accompanies a new emphasis on subsurface geoscience and engineering beyond petroleum in the schools of EES and CEAS