First year student named undergraduate of the year
29 May 2019
A first year engineering student has finished ahead of thousands of others to be named as an undergraduate of the year in a national competition, winning a full summer internship with a major engineering firm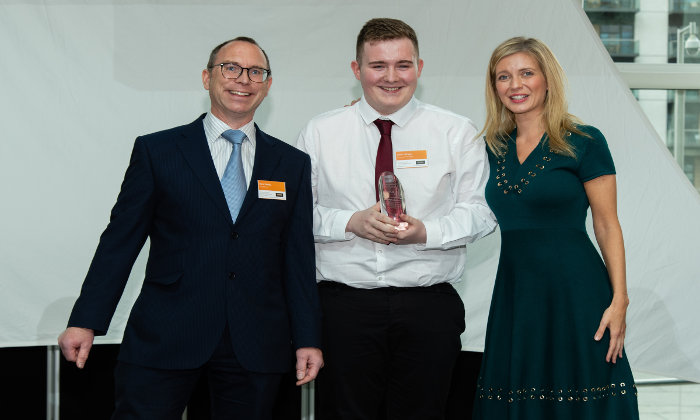 Luke Collinson, 20, is in the first year of a five year engineering degree at The University of Manchester and has been honoured as 'Construction and Engineering Undergraduate of the Year' at this year's TARGETjobs Awards.
At 15 Luke Collinson was unable to go to school for years because of family problems. Shortly afterwards he was taken into care. He went on to achieve A-levels in maths, physics and chemistry, while living alone. Now Luke has been honoured at the prestigious awards ceremony presented by Rachel Riley in Canary Wharf, along with thirteen other winners.
"It feels surreal." Luke said. "I'm not usually someone who wins awards. I'm not the most intelligent, best at grades or historically the best student but I think I have a unique skillset that my upbringing in the care system has given me that gave me a competitive edge."
The national competition received 4,542 entries from 138 different universities across the UK. Reaching the final is a huge achievement for the student finalists and particularly for Luke as only 6% of care leavers in the UK enrol at university, compared with 50% for the general population.
"Personally, it has really helped with my self-confidence, I feel so proud of myself to have won an award so early on in my academic career. For people like me from the background I've come from we don't usually get to university, let alone win awards, so it's so amazing to have people believe in me and has given me the motivation to apply for other awards and make the very most of my time at university.
"I think there are two big issues facing current university students, finances and mental health. I think finances are a big problem especially for someone who has come from living on £50 a week benefits. Having £5k dropped into your bank account at the start of the year along with the intense party ethos can be really quite damaging to people who don't understand how to handle those sorts of finances, and I think that's one of the biggest learning curves this year I am extremely proud to have overcome.
"Secondly, mental health is something I only really considered was a big part of my life when it got to a point around Christmas and I was on my own in my halls of residence. I have taken this first year as a massive learning curve and am a much better person for it. I think the mental health team at the university are absolutely amazing and are honestly lifesaving."
As well as the award Luke managed to secure a full summer internship at construction firm Laing O'Rourke following the completion of his first year of University.
"I managed to win an iPad, a glass trophy which currently sits in my room and a full summer internship at Laing O'Rourke which is practically unheard of for a first year. Unlike most care leavers I've had two amazing sisters who both had to overcome extreme family hardship who have helped carve the way for me to get here. They both went to Manchester and are now exceptionally successful; one being a barrister and the other a fully qualified doctor. I'm so immensely proud of them and they inspire me to keep going no matter what."
"My plans post-graduation depend on Brexit. If Brexit happens I'll move over to Dubai and work for a big company and not pay taxes.
"If Brexit doesn't happen I'll stay here and hopefully work for a big company. Suffice to say at the moment I'm just trying to make myself as employable as possible by taking lots of electives, courses and work experience so when I do graduate I'll have the top pick of jobs available."