The Purple Wave raises more than £11k for University causes
28 May 2019
Our Purple Wave took to the streets of Manchester once more for the city's 10k and half-marathon versions of the Great Run on Sunday, 19 May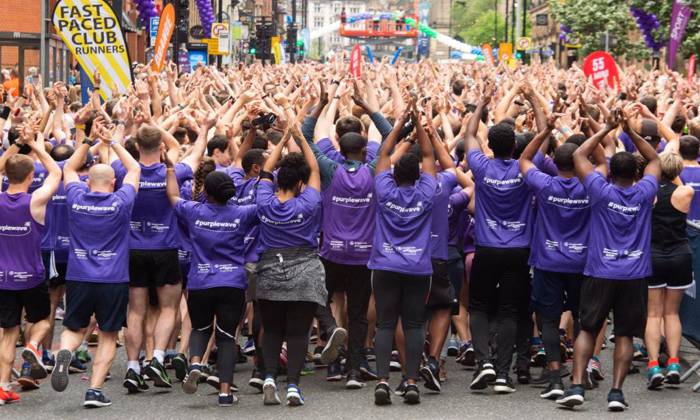 While those who took part have been celebrating, recovering and already signing up for next year, our statisticians have been beavering away and the numbers are finally in. All together more than 1600 people ran the 10k and half-marathon distance. 
The biggest number is the total distance travelled by all our Purple Wave runners. Including their tracked training our runners ran a grand total of 63,290.55km…that's enough to travel to Singapore and back.
The seconded highest (but perhaps most impressive) number has to be £11,153.17 raised by 107 runners for our Undergraduate Access Scholarships, International Equity and Merit Scholarships and medical research at the University.
James Marenghi, Sport Participation Manager at UoM Sport, said: "We were delighted to see such a large number of University students, staff and alumni walking, jogging and running for such a variety of positive reasons.
"The Purple Wave has really brought together and inspired the University community to collectively raise funds for some great causes and support healthy and happy lifestyles."
Despite doing "no training" and having "aching bones" prior to the event (his own words), on the day our Chancellor, Lemn Sissay, ran the 10k in a respectable 1:16:38.
However, our fastest runners racked-up some amazing times:
Female 10k – Hannah Stroud (37:04)
Male 10k – Arlo Ludewick (33:50)
Female half marathon - Ella Petley (1:38:10)
Male half marathon - James Bannister (1:23:50)
If that sounds too quick for you and even puts you off taking part, don't worry, this year 53 walkers walked the event for the first time. Now there is no excuse not to take part next year!
For those who want to relive the glories and for those who simply couldn't make it on the day, you can watch the BBC's coverage on BBC iPlayer. The Purple Wave features from around 1hr 51m mark and includes an interview with Lemn himself.
James added: "We want to thank everyone who took part and are looking at how we can develop Purple Wave opportunities broader than running in the near future, so watch this space!"