President visits our new Division of Teaching, Learning and Student Development
23 May 2019
Nancy discusses our plans for a step change in teaching and learning and visits "the engine room" of University of Manchester Worldwide (UMW)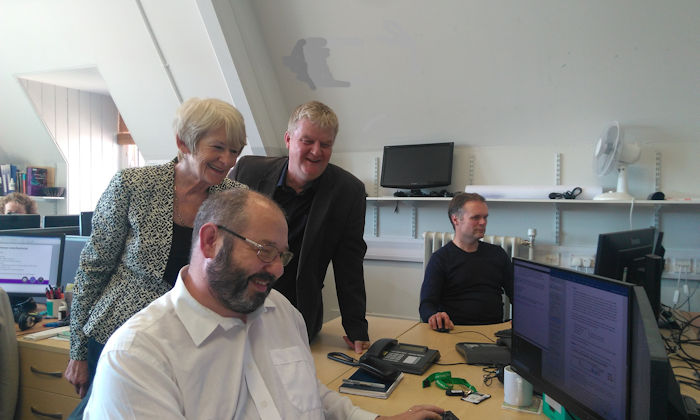 Our President and Vice-Chancellor Nancy Rothwell visited the University's new Division of Teaching, Learning and Student Development, created by a merger of the Teaching and Learning Support Office, the Student Development and Community Engagement Division and the Careers Service as part of the New Leadership Model.
Nancy also visited "the engine room" of University of Manchester Worldwide (UMW) where colleagues help design, develop and deliver online and blended learning courses.
The new Division is still in its early stages but brings together common areas of work into a single team supporting teaching and learning that will transform our students into 'world ready' graduates.
There are 119 colleagues in the new Division, including a number of Manchester Graduate Internship Programme (MGIP) student interns.
Head of Division, Louise Walmsley said: "We are working towards a step change in our teaching and learning activity, using the Teaching Excellence Framework as a mechanism for driving improvements.
"There is still uncertainty around the timing and format of TEF. However the new structure will allow us to identify good practice, discover and share insights and ensure that they are taken on board, whether they're from our TEF results or other channels and sources."
Our University was awarded Silver in the first year of TEF in 2017. Looking at teaching quality, learning environment, and the educational and professional outcomes achieved by students, it indicates how a university has performed against expectations for its own students and against similar institutions.
Nancy noted: "TEF is an important measure for us, helping to recognise strengths,  identify issues and improve areas."
One important element of our teaching and learning goal is online and blended learning – and the potential for good practice in online and blended learning teaching materials to be fed back onto campus.
Director of University of Manchester Worldwide, Professor Elaine Ferneley discussed a number of state of the art courses that are already launched or are in redesign or development.  Forthcoming courses include MA Educational Leadership in Practice, MSc Analytical Science, MSc Financial Management, MSc International Fashion Marketing and a joint Masters in Leadership for Development with the University of Melbourne.
Head of Distance Learning Operations, Ian Hutt explained how his team was structured around two areas. One part of the team works with academics on the content and learning materials. The other works with students on the delivery and support for their learning, especially early on maintaining engagement.
Finally, Nancy and the team discussed the countries we're reaching out to and the new students we could see on our digital campus – from women in the Middle East, who are not allowed to travel for their education, to East Asia and growing economies in Africa.
Manchester – thanks to all three of its goals – is truly a global force for good.
More information
For more information on our goal of teaching, learning and student experience, visit: